A little one is joining you soon – congratulations! We know the time spent preparing your home and life for baby can be as overwhelming as it is exciting, and becoming a parent is often a time that sparks you to take stock of what you use in and around your home. As you start to think through changes you may want to make, we're here to help.  
If You're Working on a Nursery: 
Freshen the room with VOC-free paint: Whether you're painting the nursery, or touching up other rooms in the house, look for paint that's VOC free. According to the EPA, choosing a low-VOC paint can minimize your exposure to chemicals of concern that are sometimes found in traditional paint—including some that have been linked to negative health effects.1  

Give your space a deep-clean, but skip the synthetic fragrances: Giving the floors and walls a thorough cleaning will help remove dust and allergens from the air. Help keep the air clean and free from VOCs by reaching for a cleaning spray free of fragrances. If you like to use fragranced cleaners look for those that disclose fragrance ingredients right on the label so you know what you are using around your home and family. For dirty carpets, look into steam cleaning options in your area.  

Wash baby clothes and linens:  Before your baby arrives, wash any new baby linens (crib sheets, bassinet liners, washcloths, towels), as well as all those adorable onesies you've stocked up on, with a plant-based, fragrance-free detergent that's made for your newborn's sensitive skin. Seventh Generation's baby laundry detergent is a USDA Certified Biobased Product 97%, and is hypoallergenic.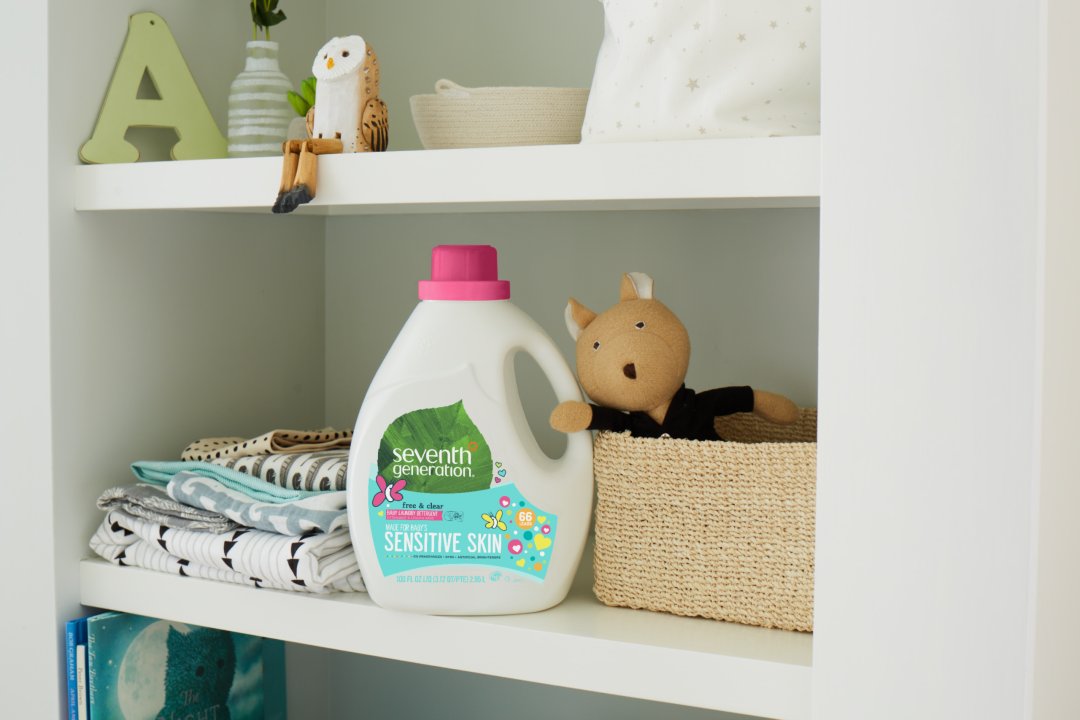 Stock up on essentials made with your baby's sensitive skin in mind: When choosing soaps and creams for baby, look for products that list their ingredients right on the label so you know what you're using around yourself and your new little one. We like hypoallergenic, fragrance-free products free of sulfates, parabens, and phthalates that are made for your baby's sensitive skin.  

Have diapers & wipes, that are made for baby's sensitive skin, ready to go: You and your baby will spend a lot of time bonding at the changing table. If you can, stock up on diapers and wipes so you don't have to run to the store as you settle in with your new little one – or add them to your registry! When shopping for disposable diapers, look for brands that carry diapers without fragrance or lotions. Fragrance-free, hypoallergenic baby wipes will help tackle messes while being gentle on delicate skin. 
Embrace Community: Building community is a great investment for new parents. You never know who might have an amazing tip on readying your home for baby, making your cleaning habits more conscientious and more sustainable, or soothing a cranky newborn. Seventh Generation's Generation Good community is full of activities, articles, conversations, and amazing everyday people who care about the same things you do.  
Making Baby-Friendly (and Earth-Friendly!) Updates Throughout the Home: 
Rethink your laundry routine: Even if you love the scent of lavender or citrus as you wash, think about adding a fragrance-free detergent formulated specifically with sensitive skin in mind to your laundry lineup.

As your laundry duties increase with a new baby, consider switching to cold water washing. Most of the energy used to run a washer goes into heating water, and since most detergents are made to work in cold water, this is an easy way to save money—and be kind to the planet.  

Rethink your cleaning habits: Now is a great time to become more aware of what's in the products you buy and use around your baby, especially those used for cleaning. Consider choosing brands that voluntarily disclose their ingredients, and take the time to research ingredients that are unfamiliar.  

If you like scented cleaning products, search out scents made from real ingredients—with those ingredients disclosed right on the label.  
Purify the air with houseplants. Houseplants are not only an easy way to beautify any living space, research done by NASA2 suggests that plants such as Boston Ferns, Peace Lilies, Dragon Trees, and others may help to improve indoor air quality.  

Babyproof what makes sense for your home and needs: 

Lower the hot water temperature on your water heater to 120 degrees. This will help make sure baths are soothingly warm, not scalding.  

Make sure your crib mattress fits good and snug against the sides of the crib to prevent baby from getting stuck.  

Dangling cords from blinds or shades present a strangulation hazard, so keep them wrapped up and well out of baby's reach. Also, make sure that mobiles are high enough so that baby can't grab them. 
The days ahead will be among the most exciting and fulfilling of your life. Not every minute will be easy, though. So, have a good cry when you need one, don't be afraid to ask for help, and trust yourself—you're ready for this. Finally, have fun, and soak up every minute. Your newborn will only be a baby once and the time really will fly. Congratulations to you and your family! 
On a mission to create a more healthy, sustainable, and equitable world for the next seven generations and beyond.