How to Wash Baby Clothes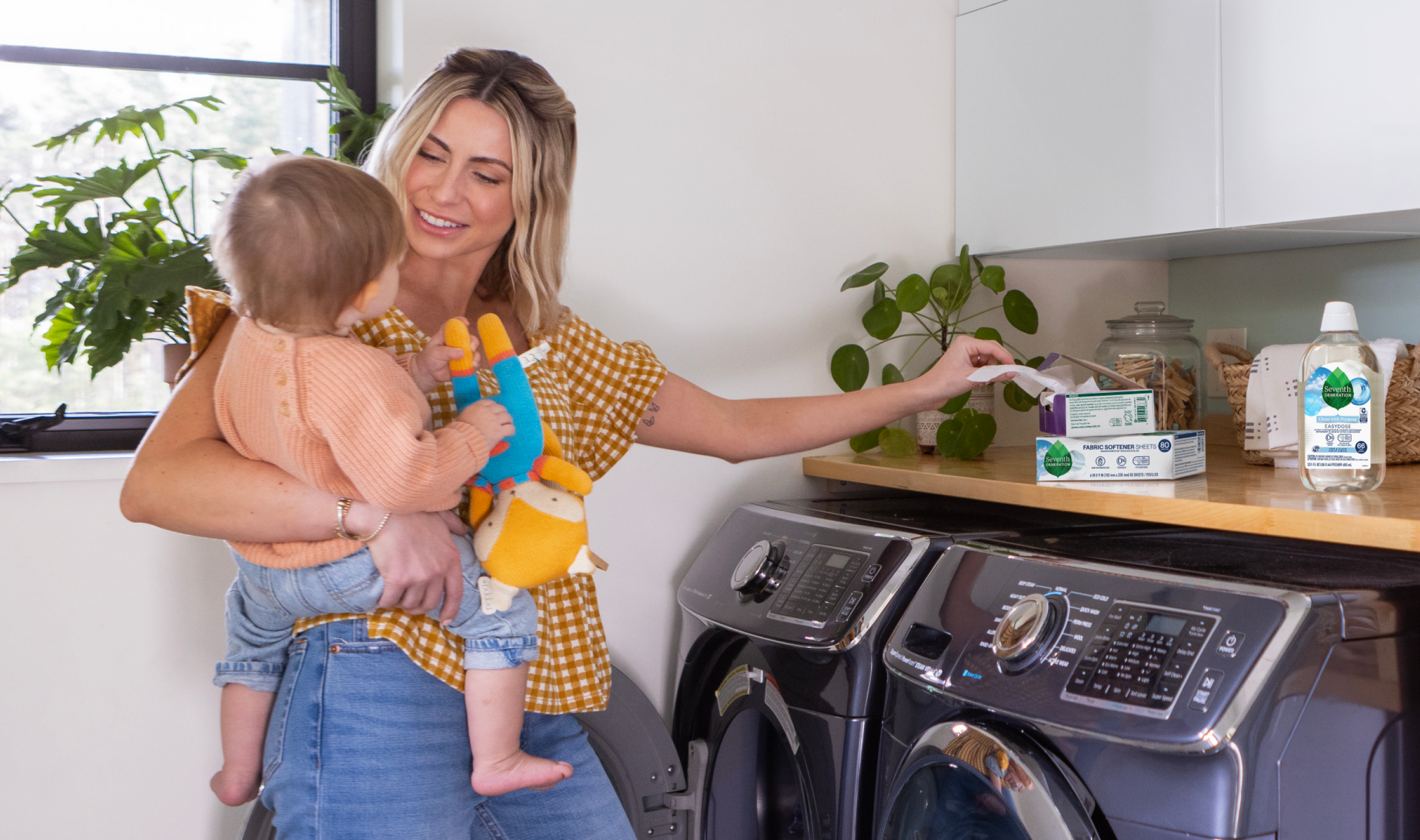 With a new baby at home, you not only have your hands full (literally!), you're adjusting to parenthood and thinking about how to make the best choices for your family. And, of course, doing LOTS of snuggling.
But with so much on your plate, it can be daunting at times. Not to mention, having a baby means you now have a lot more stuff. With your nursery and home likely bursting with onesies, blankets, bibs, and burp cloths, you might be wondering how to care for all your baby's adorable new items properly.
Many new parents even wonder: How do you wash baby clothes? Should you wash everything together? Separately? Do you need a special detergent just for baby's stuff?
We're here to help.
To lighten the load, we've broken down how to wash baby clothes and accessories with simple, stress-free tips. We've even created laundry detergents especially formulated to clean your baby's clothes—and protect their sensitive skin. That way, you can stay ahead of the next load, fight those stains only babies can create, and wash items properly so that you can feel great about using them as you care for your new bundle.
Should I pre-wash new baby clothes and accessories?
Absolutely. Baby skin can be more sensitive than adult skin and more likely to become irritated. Pre-washing can help remove dirt or irritants from new garments. [1] We recommend pre-washing all new items using a fragrance free detergent specially formulated and made so you can feel good about using it on everything that touches your baby.
If you'd like to learn more about your baby's skin, read our full guide so you can help nurture and protect the precious skin you love so much.
And if you're looking to save time and look out for the planet while you care for your baby, we think you'll love our new EasyDose Baby Ultra Concentrated Laundry Detergent. It's not only made for sensitive skin and formulated with 0% fragrances and dyes, but also packaged in a compact easy to hold, easy to store bottle that uses 60% less plastic, 50% less water, and is 70% lighter than our 90 oz. liquid laundry bottle. Half the size, half the plastic, all the clean. Even better, with our auto-dosing technology, EasyDose makes laundry a one-handed job. One squeeze = one load. 
How to treat and remove baby stains
It's a good thing babies are cute because it often feels like everything they touch seems to get dirty in one way or another. From blow outs to spit ups to nursing and feeding, you probably feel like you're flying through burp cloths, blankets, and outfits. To stay ahead, we recommend keeping two hampers in your house, one in your nursery, and another in a common area. That way, you've always got a hamper nearby when you need one.
Before you throw soiled and stained items into the hamper, give them a quick spritz with Seventh Generation Stain Spray. Not only is it free of fragrances and dyes, our 4-enzyme formula gets right to work on tough stains so that you get cleaner clothes—and some much needed peace of mind.
How to wash baby clothes, blankets, and burp cloths
Wash baby clothes, blankets, and burp cloths separately from your regular laundry. This will not only help you keep track of everything, but also let you tailor your laundry methods to care for delicate baby garments and nurture baby's sensitive skin. When in doubt, follow the washing instructions on individual garments.
We love our Seventh Generation Baby Laundry Detergent since it's made just for these moments, though you can also feel good about using a plant-based free and clear laundry detergent on baby items that fights tough stains without the use of any fragrances, dyes, or artificial brighteners.
For heavily soiled items, pretreat the stain with the detergent and let soak, or treat with Stain Spray, to help keep stains from setting. Then pre-soak items in cold water before washing to give those stains some extra time to loosen up.
How to wash bibs
Since many baby bibs have snap or Velcro closures, they require a little extra TLC. We recommend slipping dirty bibs into a mesh laundry bag to keep them from sticking to or even tearing other garments during washing. As always be sure to follow label instructions on garments you own.
The first days, weeks, and months at home with a new baby are so full of happiness and joy. But we don't need to tell you that having a baby is also a lot of work. We hope these tips help take some of the worry and stress out of doing all that baby laundry—and maybe even help you sneak in a few more snuggles along the way.
[1] https://www.bhg.com/homekeeping/laundry-linens/clothes/baby-clothes/