Baby Diapers - Size 6 (35+ lbs)
Give your baby a clean, fresh start with Seventh Generation Diapers. Our absorbent core provides the long-lasting, 12-hour protection your little bundle needs, while our FreshAIRTM breathable layer helps release humidity. Our baby diapers are made without fragrances, lotions, or chlorine bleaching, and use only FSC ® Certified, sustainably sourced wood pulp that's gentle on our planet's forests. Our softest, best diaper yet—the future looks good on your baby. Our diaper design absorbs in seconds and offers 12-hour leakage protection for your future change maker.
Available Sizes: 17 count, 46 count, 108 count
Variant: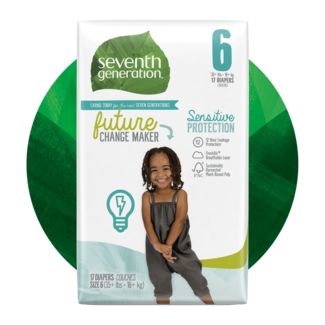 Frequently Asked Questions
Together is Better
Inspire others with the ways you care for yourself, family, and the world around us.