Baby Diapers - Newborn (up to 10 lbs)
Give your newborn baby a clean, fresh start with Seventh Generation Diapers. Sensitive Protection for a happy today made with FSC® Certified plant-based pulp that helps nurture a healthy tomorrow. Our absorbent core provides the long-lasting, 12-hour protection your new bundle needs, while our FreshAIRTM breathable layer helps release humidity. Our Sensitive Protection baby diapers are made without fragrances, lotions, or chlorine bleaching, and use only FSC® Certified, sustainably sourced wood pulp that's gentle on our planet's forests.
Available Quantities: 31 count, 80 count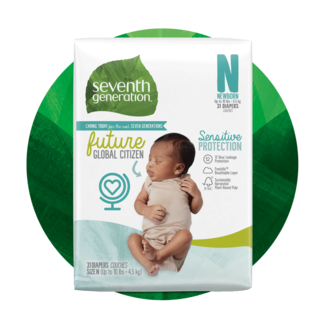 Frequently Asked Questions
Together is Better
Inspire others with the ways you care for yourself, family, and the world around us.