Journey to a More Sustainable, Equitable Planet: Seventh Generation's 2025 Goals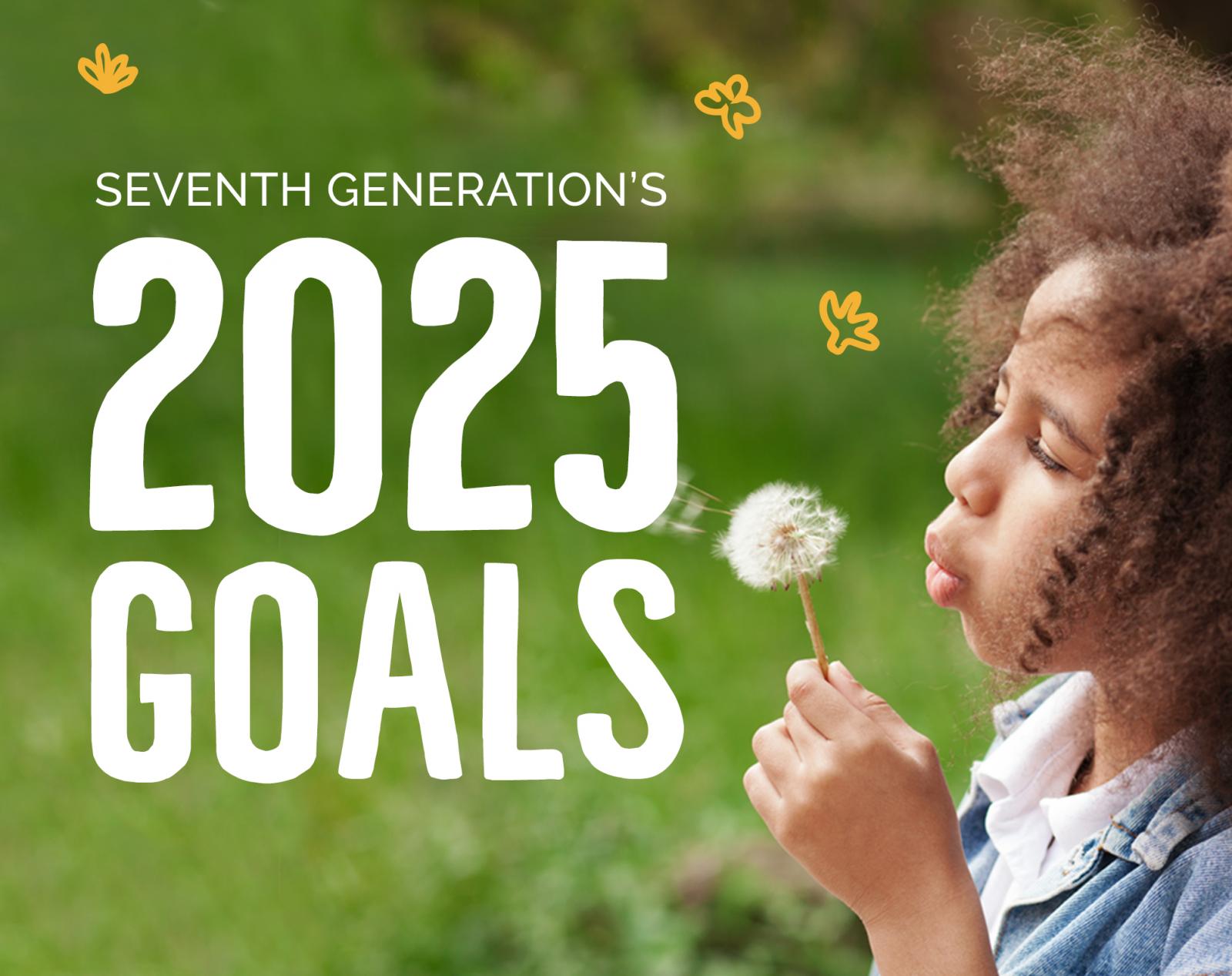 When your company is built on considering the impact of its decisions for seven generations to come, it's important to have a clear view for the future and constantly re-assess your impact. Even though Seventh Generation has long been a leader in reducing waste— with efforts such as implementing 100% PCR packaging for select products—too many of our products and packaging still end up in landfills.
We have to think bigger. Be bolder.
So, we're raising the bar for our 2025 goals and taking steps to be a zero-waste company. It won't be easy, but if shaking up our business and pushing our industry into unchartered territory helps build the healthy future our future generations deserve, then count us in.
Here's a look at our 2025 commitments:
We Went Big on Sustainability.
Sustainability has always been a big deal to us. We're all in when it comes to building a world that can support generations to come. In the past, we've highlighted that commitment through sourcing and product choices, and have also done our best to exert influence that goes beyond just Seventh Generation to advocate for higher standards for all companies. For 2025, we went even bigger. Here are our top four sustainability priorities to achieve in the next seven years:
Sustainable Sourcing: Using ingredients derived from sustainable sources is a top goal. By 2025, 100 percent of materials and ingredients will be bio-based (made from plants or renewable agricultural, marine, and forestry materials, not fossil fuels) or recycled. Thirty percent of palm kernel oil will be replaced by non-land use, bio-based oil.
Zero Waste: 100 percent of Seventh Generation's packaging will be reusable and reused, recyclable and recycled, or biodegradable. That's a fancy way of saying we aren't leaving trash behind for others to deal with.
Reduce GHG Emissions: GHG=Greenhouse gases. The EPA tracks three types of GHG. Seventh Generation is committing to reduce Scopes 1 through 3 (indirect and direct emissions) inclusive of consumer use—by 50 percent compared to 2012.
Protect Water: The water cycle will not be contaminated during a product's life cycle – from product creation to when our formulas are being used throughout your homes.
We Believe in Building Fair and Equitable Communities.
When we talk about community-building, we're referring to the global community, too— which is why we hope to lead by example to show that sustainability and equity can be good for businesses. But we have specific goals in place to nurture and support our workers. Here are two we're committed to for 2025.
Nurture an Equitable Value Chain: We're committed to paying all of the workers throughout our supply chain a livable wage—or better—whether they're working in a factory, a store, or an office.
Foster Equitable and Inclusive Communities: We want to nurture the power of our collective individuality by building a team that reflects the racial and gender diversity of our country at all levels.
We Think Everyone Deserves to Live in a Healthy Environment.
We know that consumers get up close and personal with household cleaners and personal-care products on a daily basis—yet far too many companies still include questionable ingredients in their formulas. Seventh Generation is committed to ingredient transparency and zero chronic toxicants. We've been fighting for consumers' right to know what's in the products they use for a long time—and we're getting even more serious about it for 2025. Here's how we're committing to enhancing health in the next seven years.
Use Zero Toxins: All Seventh Generation products will be free of chronic toxins by 2025.
Continue to Champion Consumers' Right to Know: All home and personal-care products regardless of brand sold in the US will disclose ingredients, including chronically toxic and incidental ingredients.
Help All Populations Reduce Exposure to Chemicals of Concern: We're committed to creating a safer world by reducing exposure to chemicals of concern from personal and home-care products for everyone, including (and especially) vulnerable populations including pregnant women, children, and care workers.
We've got some lofty goals to hit by 2025. But for nearly 30 years, we've been on a mission to help you protect your world with our safe and effective household products—and we don't intend to stop now.