Small Dose, Big Clean: All About EasyDose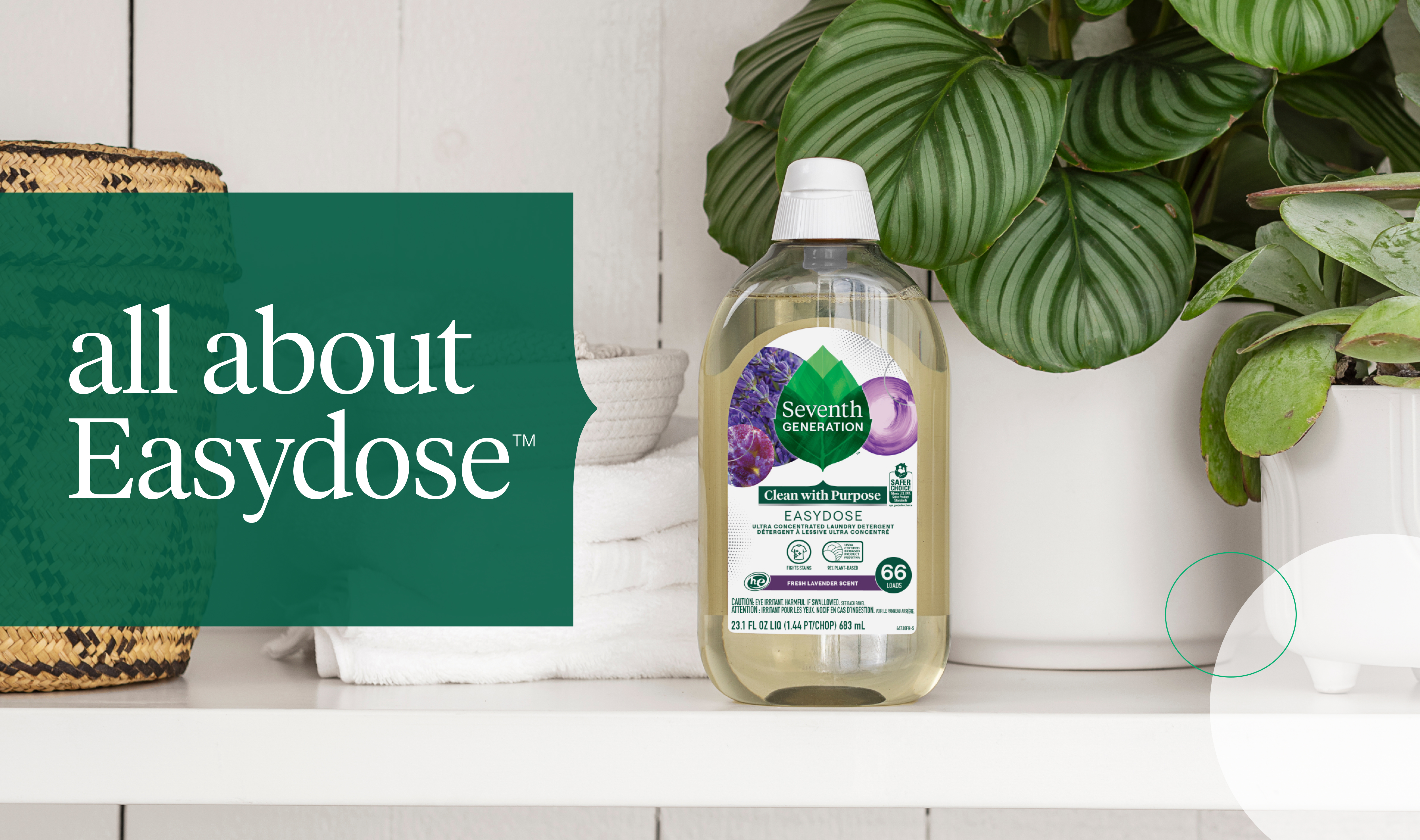 Meet EasyDoseTM: Laundry, Simplified
Life can be complicated. But that doesn't mean your laundry routine has to be. If you've been looking for a plant-powered laundry solution that delivers a clean you can trust with less mess and guesswork, we've got just the product for you.
Meet our EasyDoseTM Ultra Concentrated Laundry Detergent. Once you've tried it, we think you'll agree there's never been another laundry detergent—or another laundry bottle—quite like it.
1 Squeeze = 1 Load
Have you ever wondered if you're measuring the right amount of detergent? Or spilled a little while overpouring? Well, those days are over. EasyDose™ features revolutionary auto-dosing that measures the right amount of liquid—every time. Just flip the bottle fully upside down, give a FIRM squeeze, and the bottle stops for you. 1 squeeze = 1 load. It's that simple. Plus, with no more wasteful, messy overpouring, you get less stress and save by using only what you need.
More Clean, Less Plastic
Our new compact bottle is designed to work for your busy lifestyle—and the planet. Each 23 oz. bottle contains 66 loads of laundry, the same as in our 100 oz. bottle, while using 60% less plastic. With EasyDose™, you get more clean and less plastic. It's part of our ongoing commitment to do right for this and future generations.
4x the Cleaning Power*
Now, we know what you might be thinking. Can such a super-concentrated dose really deliver the clean my family needs—and simplify my laundry routine? You bet it can! Our EasyDose™ Ultra Concentrated Laundry Detergent has 4x* more cleaning power per drop than our typical 100 oz. laundry detergent. And since our advanced-enzyme formula is Powered By Plants™ and tested on 60 of your toughest stains—you know it will do the job when life gets messy. Plus, with our new easy-use bottle, you can measure and pour the right amount of detergent with one hand while you take on all that life throws at you with the other.
But you don't have to take our word for it. EasyDose™ is already turning heads in real households.
One mom loves it because you can still get a load of laundry going even "when you have a fussy baby in one hand, or a toddler trying to get into everything in the laundry room."
Other users have been pleasantly surprised when trying EasyDose™, noticing how little detergent it takes to wash a full load, how much less space the bottle takes up in the laundry room, and even how easy the compact bottle is to pack for long trips. This convenient bottle is also perfect for traveling. Doing laundry on the go doesn't need to take up as much space in your suitcase or travel bag.
If you can't tell, everyone's pretty excited about EasyDose™. As one mom puts it, "it's easy, it's quick—and it cleans your clothes." We couldn't have said it better. Try this NEW, convenient laundry solution today. We have a feeling you'll fall in love with this little bottle.
*When compared with our typical 100 oz laundry detergent