Baby Travel Tips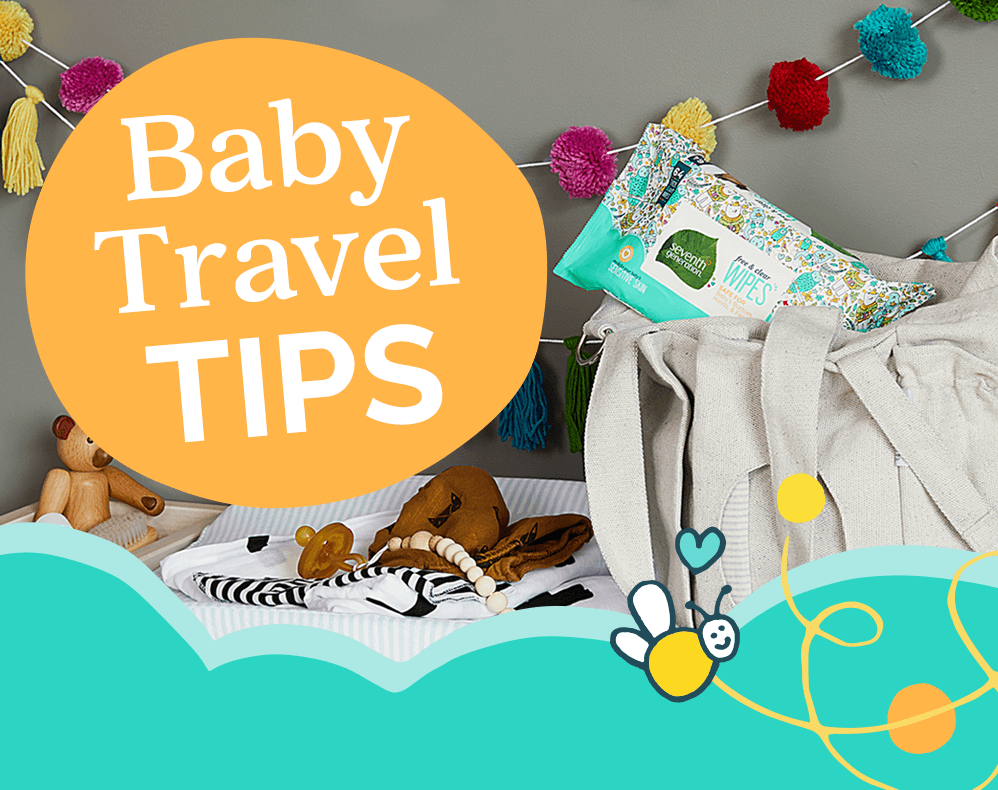 When you're hitting the road with your new baby, we know it can be challenging to maintain the same healthy routines you practice when caring for your baby at home. You work so hard to create a healthy environment and use products that are made for your baby's sensitive skin, while also trying to be mindful of your environmental footprint. We're here to help make sure you don't have to sacrifice your clean priorities while you're on the go.
Get the Diaper Bag Ready
Here are the essentials, and a few insider tips: 
Wipes:

Traveling with baby can be a dirty job, and we want to help you avoid having to rely too much on mystery-smell public soaps and scratchy paper towels. Our fragrance-free, hypoallergenic baby wipes are easy to stock in the car, bag, or stroller, while also being gentle on delicate skin and even safe for baby's hands and face. Having a trusty, thick baby wipe can mean the difference between baby mess disaster and clean bliss.

Diapers

: Bring more than you'll need. Or, even better, if you're planning an extended stay, order a quick shipment from

Amazon Prime

to arrive at your destination. That way you'll save room in your luggage, and the diapers you prefer will be waiting for you. Choose brands whose diapers are made without fragrance, dyes, and lotions. It is also important to make sure that your baby is wearing the right diaper size. Check out our diaper size fit guide to make sure you have the most comfortable fit before you travel.
Sunscreen

: Baby skin is more

sensitive

than ours and lacks the melanin to help protect it from the sun's ultraviolet rays. Plus, since baby's skin is more permeable, you want to be choosy about what is absorbed into her skin.

EWG

has a great resource for sunscreens that are free of parabens and sulfates, hypoallergenic, and have the high SPF your baby's skin needs.

Snacks:

Pack plenty of healthy snacks, so you have options. Use reusable containers rather than single-use plastic bags to minimize waste.

For healthy baby food that's easy to pack and easy to eat, we love the fruit and vegetable purees made by our friends at

Once Upon a Farm

. They're sustainably grown, certified USDA Organic, and contain no preservatives or added sugars. You can throw a handful into your travel cooler before you leave, which will help you avoid having to get creative at an airport kiosk or gas station.

Toys

: Bringing along a few new "surprise" books can add some fun and connection on long journeys, and help balance screen time, which often increases when we travel.

BPA-Free Pacifier and/or Natural Wood Teether

—To help soothe your little one.
Seventh Generation baby wipes may be the most convenient and adaptable item on this list. Having thick baby wipes that are tough and resilient is crucial to ensuring that baby mess don't get out of hand when you are on the go.
Avoiding and Eliminating Waste
It's hard to avoid waste when we're traveling, but here are some great ways to minimize:
Bring along a re-fillable water bottle to avoid using plastic ones.

Pack a re-usable straw to slip into that much-needed smoothie or iced latte.

A reusable shopping bag is great for storing empty recyclables that pile up.

Our

Easy Dose Ultra Concentrated Laundry Detergent

uses 60% less plastic, 50% less water, and is 75% lighter than a 100oz bottle, so you can bring a clean you can trust with you without creating unneeded waste. Don't quite have room for a whole bottle? No problem. One small squeeze cleans an entire load. Just squirt several loads worth into a re-usable container and slip it into your suitcase to conserve resources and save money.
On the Go Pumping/Nursing
Nursing and pumping on the go can be challenging, but the right preparation can keep things smooth. Every nursing mother knows her own comfort level when nursing in public, so do what feels natural to you. If you do prefer a little extra privacy, consider a versatile nursing cover made from organic cotton and bamboo that can be a cover-up, blanket, or even a scarf.
Our friends at Mamava are dedicated to making public places like airports and hospitals more friendly to new moms by providing free, clean, and private spaces to nurse or pump. Their free app makes it easy to find and use the nearest pod. Pumpspotting.com is another great resource for breastfeeding on the go, full of crowdsourced wisdom about where to find power outlets, comfortable seating, privacy, and a sink for washing pump parts.
What to Leave Behind:
If you're leaving home for multiple days, you can feel good about leaving some things behind:
Cloth diapers—we love cloth diapers, but they add a lot of weight and unpleasant odors.

Bulky stroller—Instead, bring along a sling or wrap and practice some babywearing, which is a great way to soothe baby when her routine is a bit disrupted while traveling.

Heavy blankets—a hypoallergenic, organic cotton sleep sack saves weight and space.
There's nothing better than introducing your baby to the beautiful world around us, and doing so knowing that you're still practicing the safe and healthy routines that are so important to you. We hope these tips make your first adventures out with baby fun-filled and unforgettable.