Two Plastic-Free Cleaning Solutions, One Zero Waste Mission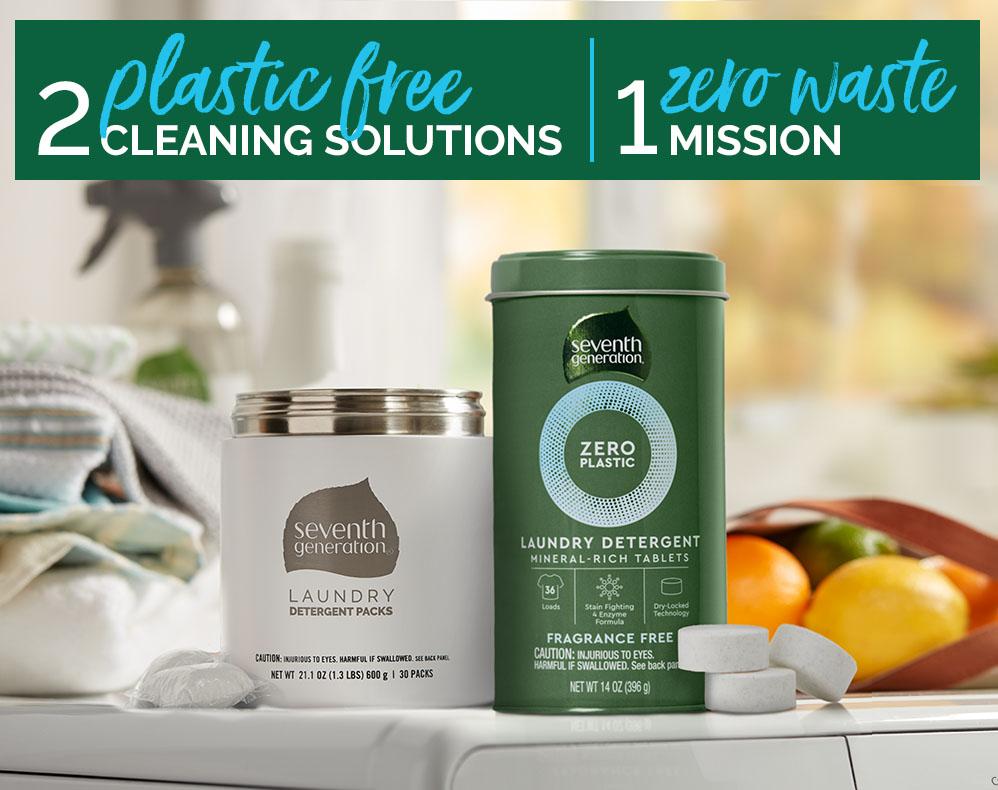 Two Plastic-Free Cleaning Solutions, One Zero Waste Mission
At Seventh Generation, we're committed to being a zero waste company by 2025, and we believe a less wasteful future starts with, well, less waste. That's why we're starting to radically change how we make and package our products. From making nearly all of our packaging from Post Consumer Recycled (PCR) plastic to achieving 97% package recyclability to more sustainable ingredient sourcing, we'll do whatever it takes to help create a healthier future for the next seven generations. Now, we're thrilled to announce the boldest steps yet in our zero-waste mission: two exciting new home cleaning solutions that come in packaging that's completely plastic-free.
Meet Seventh Generation Zero Plastic.
It's our revolutionary new line of cleaning solutions for kitchen, bathroom, and laundry. Packaged in reusable canisters made from steel—the world's most recycled and recyclable material—our water-activated, fully biodegradable powders and powder tablets give you a fundamental clean you'll love without the use of dyes, bleach, wrappers, or plastic of any kind. And since there's no water added, there's less water used in manufacturing, shipping, and storage.
We know how carefully you consider the products you purchase for your home and family, and we're thrilled to be able to offer the cleaning products you know and love in packaging that gives you the peace of mind you deserve.
Visit Clean with Zero Plastic to learn more, and visit Grove to stock up on our Zero Plastic products today!
To further our zero-waste mission, and keep the good news coming, we're also thrilled to announce our new partnership with Loop. They're pioneering a groundbreaking new way for you to get your favorite products without having to rely on disposable, single-use shipping materials. The Loop Store already features Seventh Generation's plant-and-mineral based Ultra Power Plus Fresh Citrus Laundry Detergent Packs, with more of the plant-based cleaning solutions your family depends on—including our hardworking dishwashing liquids that stand up to greasy dish messes—coming soon.
How does Loop work?
Created by recycling pioneers TerraCycle, Loop allows you to purchase cleaning and personal care products directly from the Loop Store. Loop then delivers them right to your door in a durable, reusable tote that's securely sealed and folds up for easy storage. Once your product containers are empty, rather than throwing the packaging away, or having to remember to recycle it, you ship it back to Loop in the same protective, durable tote—no bubble wrap or wasteful packaging required—and then re-order whatever your family needs. You can even set your favorites to "auto-refill when returned" so that you don't have to worry about adding them back to your list.
When Loop receives your empty packages and containers, their state-of-the-art cleaning technology hygienically cleans them for reuse. That way, they can once again be part of the "loop," getting your family the products you love and strengthening your commitment to a less-wasteful future.
What's the environmental benefit?
When Loop packaging is reused as intended, it has positive greenhouse gas and environmental impacts that help you reduce your own carbon footprint while also nurturing the health of future generations. [1]
How do I sign up?
Are you ready to Loop? We thought so. Loop is already conveniently available in all 48 U.S. contiguous states, and you can get started here!
References:
[1] Slides 12-14 https://www.epa.gov/sites/production/files/2016-04/documents/use_reusables_-_fundamentals_of_reusable_transport_packaging.pdf