Non-Electric Washing Machines - Wave of the Future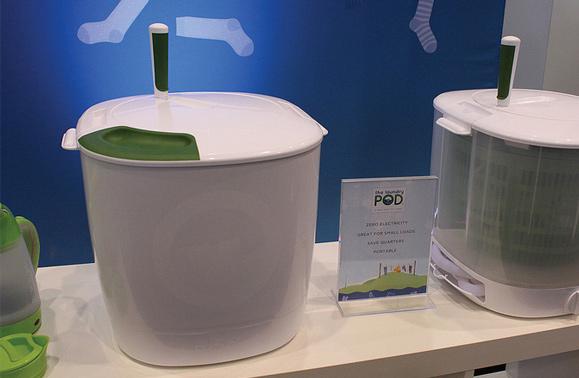 Much as I hate to admit it, I'm old enough to remember a time before today's do-it-all automatic washing machines. My family had an electric wringer washer and doing laundry was a little more hands-on than it is today. I think the highlight of my young mother's life was getting a "real" electric washer that did all the work for her.
That said, these days more and more people are looking for ways to save water and energy and tread a little more softly on the planet. Maybe they've chosen to live off the grid, or they simply want a conscience that's as clean as their clothes -- conventional washers use a lot of power and up to 50 gallons of water with each load! Whatever the reason, non-electric washing machines offer a water- and energy-saving alternative that's more convenient than hand washing clothes.
There's a wide variety of non-electric washing machines on the market, and which you choose really depends on the size of your load, the size of your living space, and the size of your budget. Here are a few of the most popular models available.
The Wonderwash is a mini, portable washing machine weighing only 5.5 lbs. Small enough to sit on a countertop, the Wonderwash does a 5-lb. load in under 2 minutes. Its size makes it a good choice for singles, campers and people who find they need to do small, frequent loads like hand washables and diapers. Wonder Wash works with hot or cold water, costs under $45 and uses less water than even hand washing.
The Laundry POD™ is another small, non-electric washer designed to save money, time, and effort while minimizing the environmental impact. Using only five gallons of water, ZERO electricity, and one-fifth the Laundry Detergent used by conventional electric washers, the washer is small enough for an apartment, and can even be used outdoors. The machine, which sells for $99 on the manufacturer's site, uses a hand crank to agitate as many as ten pieces of clothing at a time, and spin away excess moisture after draining. The whole process takes less than ten minutes. The Laundry Pod can be moved and easily stored away.
The grand daddy of non-electric washers, the James Washer was originally produced from 1900 to the 1920s. Thanks in part to its simplicity and durability, it's enjoying a comeback. Today's models are made of high-grade stainless steel with a galvanized lid and pine legs, but the basics remain the same: To wash clothes, simply put water and Laundry Detergent in the tub, put in dirty clothes, soak for a few minutes, swish the pendulum agitator back and forth a few times, drain, rinse, and then put the clothing through the wringer. Draining is done through a bottom faucet. The James Washer has a 17-gallon capacity and a retail price of $499.
Similar in function and price to the James Washer, Lehman's Hand Washer uses a triangle-shaped agitator and comes with a clear lid so you can see inside as you wash. Fans of this type of washer say clothes come out just as clean, in less time than it takes to do them in a conventional, electric washing machine. While neither the James or the Lehman washers can be considered "portable" both are light enough that they can be moved outdoors in the summer so you can enjoy the fresh air and sunshine while you do your laundry – not to mention the bonus of laundry runoff water for your gardens.
Do you use a non-electric washing machine? We'd love to hear about your experiences.
Photo: Travel Aficionado