8 Tips for Creating an Eco-Friendly Bathroom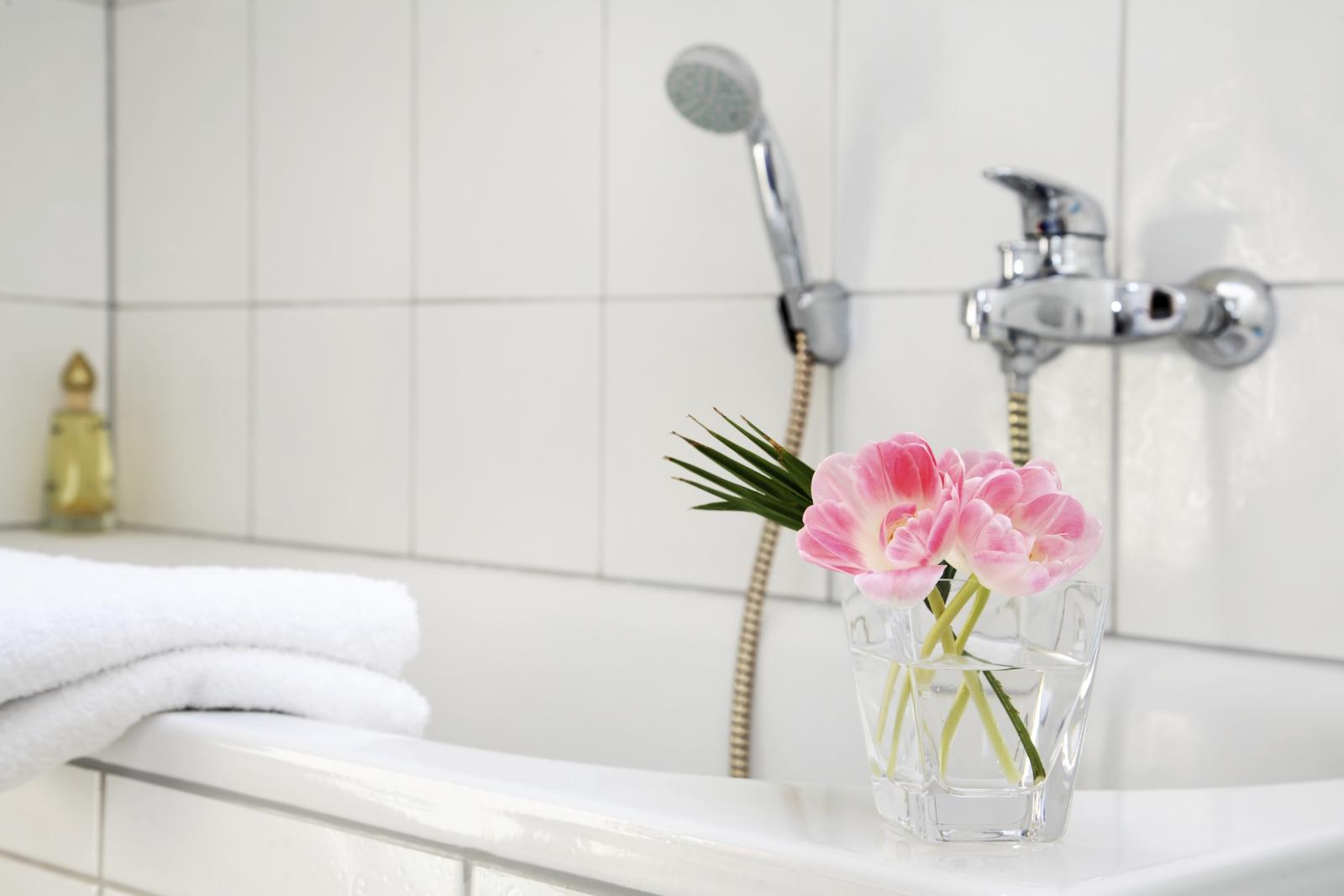 Compared to the style in other rooms in your home, the décor in your bathroom probably looks sparse and functional. With a few small changes, you can give it a stylish makeover just in time to wow your holiday guests and make a big impact on your home's health and sustainability:
1. Cover with Care
New paint or wall covering can update the look of a bathroom in a flash, but many come loaded with Volatile Organic Compounds (VOCs) that threaten indoor air quality. Find low- and no-VOC options at your local home center.
2. Replace the Shower Curtain
Traditional vinyl curtains and liners are often made from materials like PVC, which can release VOCs. These can degrade the quality of your indoor air in your home for up to a month, according to the EPA. Further, many companies add phthalates to their curtains to make them more pliable. If vinyl is your only choice, air the curtain outdoors for several days to reduce off-gassing.
If you're remodeling, opt for a glass shower door and avoid a curtain entirely. But for a quick, eco-friendly facelift, choose a fabric curtain made from hemp, organic cotton or naturally antimicrobial bamboo. Fabric is easy to clean (just toss in the washing machine) and if you purchase sustainably-sourced material, your choice can have a lasting impact.
3. Choose a New Bath Mat
Bath mats made from 100% bamboo come in a wide range of colors and textures and don't require you to compromise a chic look to be good to the earth. Or for something even closer to natural, you can also step out of the shower onto a moss carpet, which will flourish in the damp environment of the bathroom and provide the added benefit of fresher air.
4. Inspect the Bath Toys
Even grownups have been known to have a bath toy or two, but many traditional plastic bath toys are riddled with BPA, PVC and phthalates that can leach into the hot water. Instead of tossing caution to the wind, toss in toys that you know are free of the big three. This guide from Simply Natural Mom is a perfect jumping-off point for making bath time both green and clean.
5. Makeover Personal Care Products
The bathroom is home to most of our beauty and hygiene needs. While these don't qualify as "décor" now is a great time to consider making more mindful choices. Check out EWG's guide to the safety of personal care products and consider replacing products that contain ingredients you are not interesting in using.
6. Clean Green
While it may not be the most glamorous task to clean your toilet bowl and tub.Take a moment to consider the products you are using to get this job done. Look for products that have their ingredients listed right on the product label, so you know what you are using in this room where you spend quite a bit of time. Seek out environment-conscious brands. Look for cleaners like these at your local retailer.
7. End the Paper Trail
We use a lot of paper in the bathroom, from personal cleanup to wiping down the sink when we don't have a towel at hand. Go for post-consumer recycled toilet paper. Enough said.
8. Clear the Air
For the healthiest bathroom on the block, ensure you have adequate ventilation. If your system isn't where you want it to be, you don't have a window to crack, and you're not planning on a full remodel anytime soon, there are some temporary fresh air solutions: add a houseplant, leave the door slightly ajar, and set a fan blowing outward into the house (toward an open window) during a long shower.
Have you done a bathroom Eco-Makeover? Share some of your best tips!