Why Seventh Generation is Committed to Clean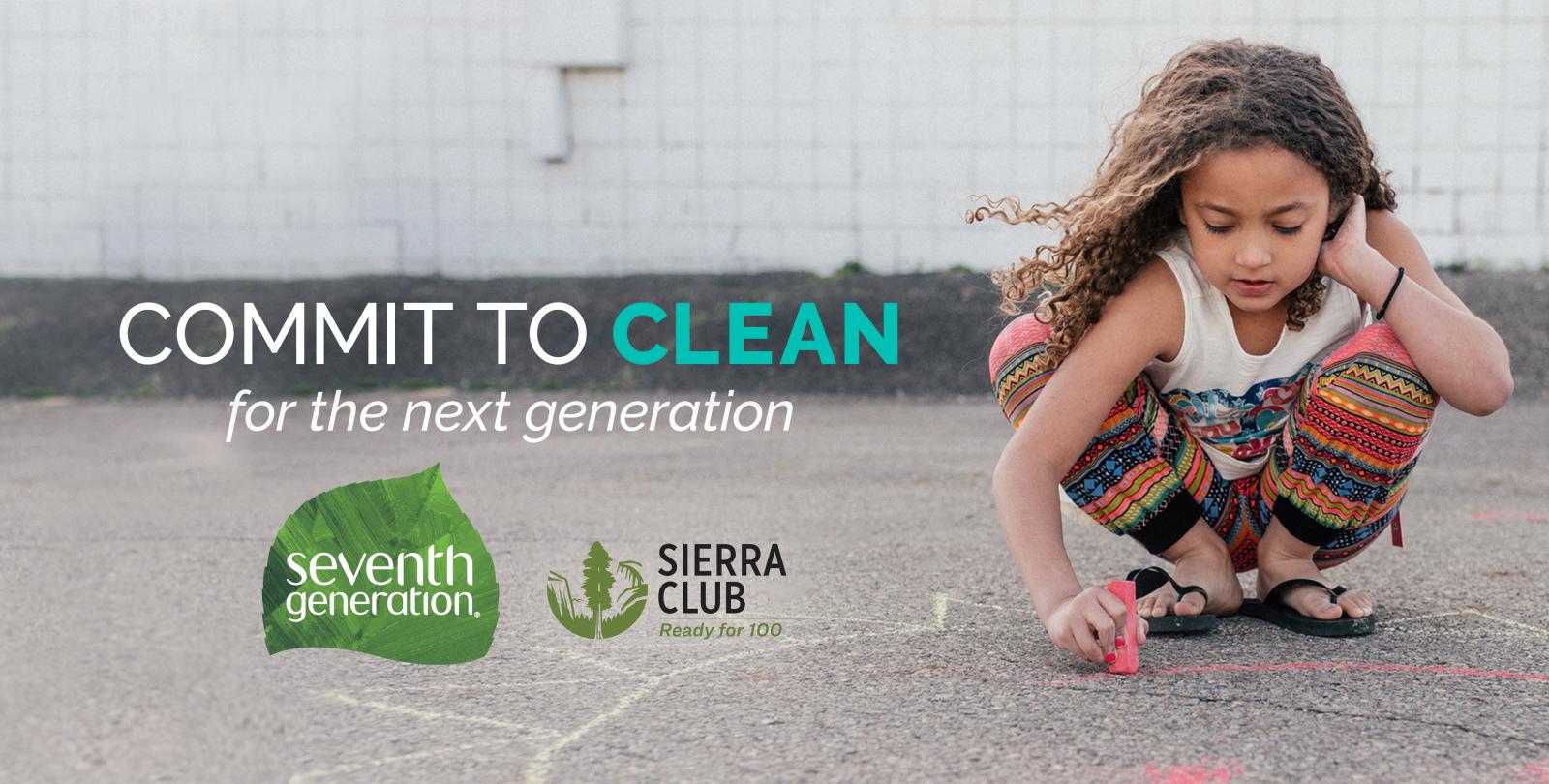 How Do We Take Action to Fight the Effects of Climate Change?
The endless political debate over climate change leaves many of us feeling frustrated and tired of waiting for action. Why, we wonder, won't somebody do something about climate change and global warming?
But here's the thing: we don't have to wait. Not for Congress, and not for the EPA. There are already available and attainable ways to lessen our impact locally when it comes to climate change. Not only that, they're already being embraced by cities across the country and around the world. As a company committed to the long-term health of people and the planet, Seventh Generation feels compelled to get involved. That's why we've partnered with Sierra Club in the Ready for 100 Campaign, a movement out to inspire cities to embrace 100% clean, renewable energy and leave unsustainable fossil fuels behind.
We all know that the use of fossil fuels is polluting our air. But the same things that are making our planet sick are making us sick too—especially kids. In fact, according to the CDC, asthma rates have gone up 15% over the past decade[1], not to mention rising pollen counts are making allergy season longer—and sneezier—than ever. Before long, more students may have to start reaching for inhalers after running through the jungle gym or missing recess with allergy flare-ups.
These are hard realities, but they're not accidents. They're side effects of burning too many fossil fuels for too long. And unfortunately, those who are the least responsible for these problems—communities of color, the elderly, and kids—are generally hit the hardest.[2]
Climate change is a global crisis, but it's time for the fight to go local. Cities cover only 2% of the planet, but they actually produce 60% of our carbon dioxide emissions—that's why moving our cities and towns to 100% clean, renewable energy makes all the difference. So, check out the Sierra Club's #ReadyFor100 campaign and tell your mayor that you want your community to join the 70 U.S. cities (and growing) that have already committed to transition to 100% clean and renewable energy. Switching to clean and renewable energy is the right choice for the planet's health, and for our children's health.  Together, we can spark a new kind of environmentalism and inspire a clean-energy revolution.
Is 100% Renewable Energy Really an Attainable Solution?
In short…yes! Here are the facts.
First off, renewable energy isn't a theory—it's a reality. Just ask the residents of Georgetown, Texas. Though it's in one of the country's most conservative areas, Georgetown already made the switch to 100% renewable, squashing some long-held stereotypes about where this change might happen, and bringing millions of dollars in new investment to the city.[3] Georgetown's mayor Dale Ross doesn't mind saying that switching to renewable "was a business decision." With wind and solar, he adds, "prices don't swing up and down like oil and gas. So, the city can sign a contract today and know what the bill is going to be for the next 25 years."[4]
Or ask the people of Greenburg, Kansas, which was almost destroyed by tornadoes in 2007. The town's future looked bleak, but city leaders realized that rebuilding around clean energy could become an asset and lead them to energy independence. The city now runs mostly on wind power. Additionally, though enrollment was going down at Greenburg public schools, a new generation of families, inspired by all this positive change, feels excited to put down roots and raise their own families in Greenburg.[5]
Or, ask us. Seventh Generation is proud to make our home in Burlington, Vermont, which in 2015 became the first city in the U.S. to run entirely on renewable and gets much of its energy from a wood-burning plant and water-driven hydropower.[6] After the switch to 100% renewable, Burlington Mayor Miro Weinberger said that "We have seen first-hand that renewable energy boosts our local economy and creates a healthier place to work, live and raise a family."[7]
Clean energy sources like wind and solar are not only becoming more common, it's becoming more affordable, too. Solar installations in the U.S. have almost tripled in the past few years, and solar and wind energy are becoming even cheaper than unsustainable fossil fuels. And switching to renewable energy will save on health costs, create economic growth, and add jobs.[8]
What Does Switching to 100% Renewable Mean for Our Health?
Switching to renewable energy and reducing fossil fuel use will have a variety of positive effects on our health. For example, the Regional Greenhouse Gas Initiative, which was organized by states in the Northeast that wanted to reduce greenhouse gas emissions, estimates that since 2009, reducing air pollution from fossil fuel power plants[9] has helped avoid hundreds of deaths, thousands of asthma incidents, and saved approximately 5 billion dollars on health expenses. And the health benefits don't stop in the U.S. If cities around the world switched to renewable energy, premature deaths from cardiovascular and respiratory problems[10] would go down on every continent and we'd save an estimated 150 million lives. And countries with dirty air, like India, might be able to save 13 million lives alone. [11]
As the Sierra Club points out, a change to renewable energy isn't just essential, it's inevitable: "Just as we switched from horses to cars, telegrams to telephones, typewriters to computers, and postal mail to email, we must now commit to switch from dirty fuels to clean energy."[12]
The time of sitting on the sidelines and feeling frustrated is over—the time to take action is here on climate change and global warming. So, make your voice heard and tell your mayor you're #Readyfor100. Let's join together for ourselves, for our planet, and most of all, for our children and the next seven generations.