Top Tips for Keeping Kids Busy at Home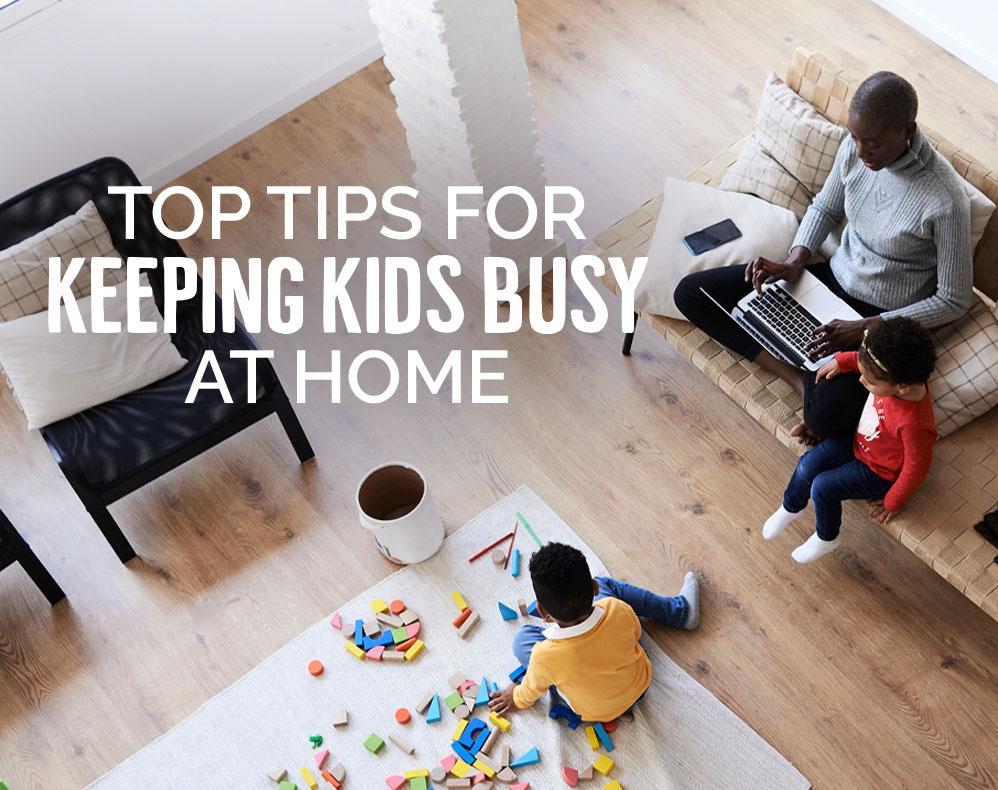 For so many families, adapting to the COVID-19 crisis has meant stepping into new roles, switching up normal routines, and for parents, spending a lot more time at home with the kids. Parents who are used to sending their kids to school or childcare may even feel like the walls are closing in, and that their toolkit of go-to activities is getting awfully low.
We're here to help.
We asked Seventh Generation employees, many of whom are juggling working at home to help get essential products back into stores and homeschooling their kids, to share how they're keeping kids of all ages engaged, busy, and happy during this challenging time. They shared amazing resources and activities that can be used while following the CDC's guidelines for how to protect yourself and your family during the COVID-19 pandemic.
Let's start with 3 resources that are packed with kid-friendly goodness.
Brain Pop's mission is to "make any room a classroom." Even better, it's designed to be navigated by kids to buy you some time when you need it. It's full of amazing learning resources for all ages that let kids follow their interests, whether they're into art & music, engineering & tech, science, or English. Even better, Brain Pop is offering FREE access to help schools and families during this challenging time.
Scholastic online is a nearly bottomless treasure trove of high interest learning activities for all age levels. Fans of Dog Man and Captain Underpants will love the Dav Pilkey at Home page. There are also Reading and Writing Quests for Pre-K to 9th grade, a ScienceFlix page packed with super-cool videos and experiments, plus, for kids who may be struggling to adjust, there's First Aid for Feelings: A Workbook to Help Kids Cope During the Coronavirus Pandemic.
Busy Toddler, an Instagram page run by former elementary school teacher turned stay-at-home-mom, Susie Allison, has close to a million followers. The page is filled with great ideas ranging from fun and easy activities to get you through the day to a fully developed pre-school curriculum. We suggest exploring the full page on your own, but here's a few of our favorites:
Paint "Trash"—Using discarded gems from the recycling bin, have kids paint their masterpieces on pizza boxes, milk cartons, and other re-usable canvases. You'll re-use what's around and invigorate art time with unexpected materials.
Popsicle Bath—Pop the kids in the bath and let them enjoy a popsicle snack. This clever method minimizes mess while letting kids enjoy bath time fun. Win-win.
Dance Party—Grooving tunes + glow sticks = instant dance party and lots of giggles.
Box Road—Raid your recycling bin (or basement) and tape together cardboard boxes. Draw roads on the boxes using Magic Marker™, add toy cars and Lego™ minifigures, and let imaginations run wild.
Here are some additional stand-alone activities we think you'll love:
Dress up—Never underestimate the fun that can be had with scarves, hats, handkerchiefs, athletic gear, or other fun gems from mom or dad's wardrobe.
Sing along—Cue up Spotify's Disney Playlist, or explore Spotify Kids, their app for young listeners, and let the karaoke battles begin. Hairbrush microphones optional.
Baking/Cooking with a toddler—While you cook, set up your toddler with almost-empty spice shakers and a bowl of water. A great way to let kids "help" with meal prep.

To cook and bake with children ages 7-12, check out The Complete Cookbook for Young Chefs from America's Test Kitchen. Amazon's Kindle version is only $3.99.

Slime—Sometimes one word says it all. This video tutorial makes it easy to slime it up.
Tent making—Empty the linen closet and assemble the biggest, baddest tent imaginable from all those extra sheets. The mess will be worth all the fun they'll have!
Obstacle course—Bust out those old camping mattresses, Hulu hoops, paper bags, mini trampolines, hockey sticks and the like and set up an obstacle course for a fun way to get some of that energy out. Have older kids set up their own and time themselves.
National Geographic & Planet Earth videos—Screen time you can feel good about! Kids can learn and be thrilled all at once.
Nature scavenger hunt—Invent clues and collect natural treasures in virtually any outdoor space. In a child's imagination, anything can become treasure: acorns tops, shiny rocks, old pennies, etc. Just remember to have the kids wash up afterward!
As you begin exploring, please remember to check in with your kids about how to stay safe. We hope these resources add some engagement and levity at a time when "normal" feels a bit different. We're all in this together, and we stand united with you in nurturing this and future generations.