Tips for Managing Stress During COVID-19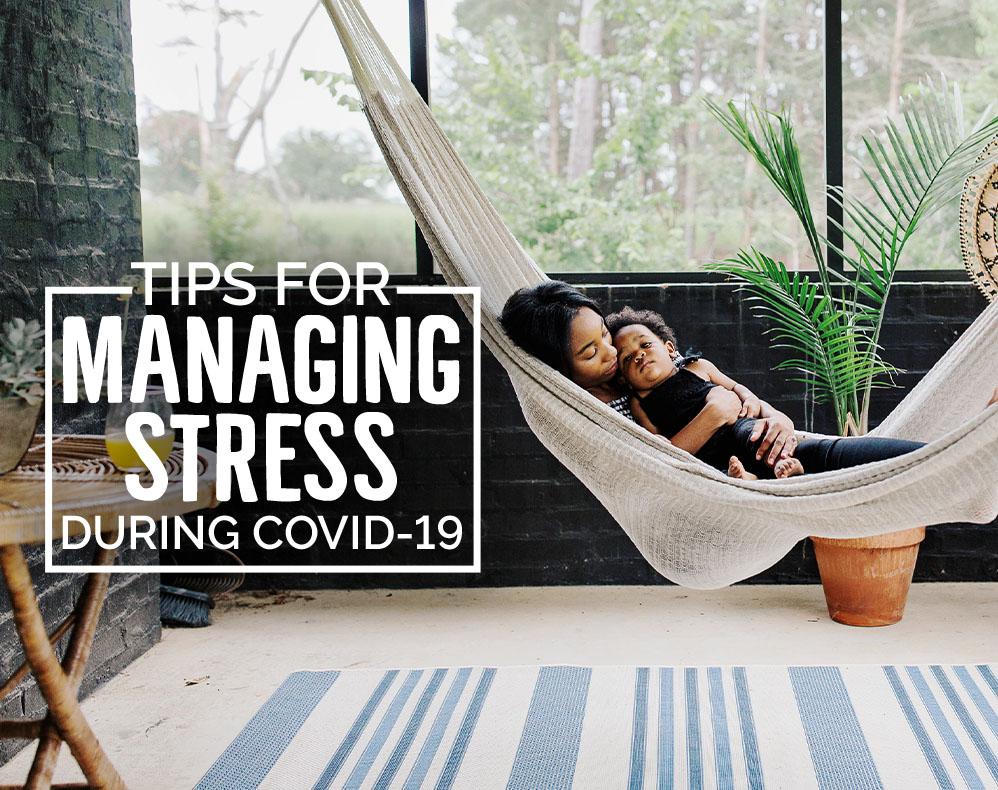 Though we're all affected by the COVID-19 pandemic in different ways, one thing we're all likely experiencing right now is an increase in stress in our lives. Whether you're sheltering at home and feeling isolated, or a frontline worker feeling more at risk, this crisis is affecting our mental and physical health like never before.
When we feel stressed and overwhelmed, everything becomes harder, from parenting to working to just staying positive day to day. The good news is that you're not alone—even if it feels that way—and there's small things you can do every day to feel better and re-charge your mental and physical batteries.
Shortly after Seventh Generation staff made the transition to working at home, we invited Cara Gleason Krebs, School Services Director at the Howard Center in Burlington, Vermont to talk to our employees about the effects of stress on the mind and body. Cara has a Master's in social work and has used her passion for helping others in a number of impactful ways. From working with women who are coming out of prison, to managing mental health professionals serving at-risk students so they can be successful in school – she has had a wide breadth of experience.
Cara gave our staff useful insight into the ways that trauma and stress affect us, as well as some easy-to-practice stress-reducing tips to help manage the daily challenges we're all facing. We're excited to share her invaluable thoughts and suggestions with you and your family.
Cara's COVID-19 Stress Reminders:
Compassion is the key

: From physical effects like headaches or stomach pain to mental effects like frustration and feeling withdrawn, stress affects all of us differently—but no one gets a free pass. That's why it's important to stay compassionate with yourself and others. Remember that we're all being impacted all the time.

Kids and stress

: For little kids who are used to physical, interactive play, isolation and disconnection from others can be especially hard. For older kids and teens, who are typically less risk averse, staying home and/or social distancing on behalf of the greater good may be hard to accept.

If you're overwhelmed, you're in good company:

With so many of the normal ways we build connection, community, and self-worth in flux or on hold, many people are feeling stressed and overwhelmed. Don't be too hard on yourself!

New routines help:

The more we try to keep things the same as they were before, the more frustrated we're likely to feel. Create new routines that support you and your family for this moment, even if they're a bit different.
Cara's Top Tips for Reducing Stress at Home:
Take care of your body:

Stress makes us feel like we're lost in space, and physical activity makes us feel more grounded in our bodies. Get out for walks, throw on an on-line workout or yoga routine, or practice some mindful breathing or meditation. Just remember to always keep in mind the CDC's

guidelines

for staying safe and protected.
Get enough sleep:

It sounds simple, but stress disrupts our sleep, and getting enough rest will help your mind and body reset and can help reduce stress.

Connect with others:

Isolation can be stressful and maintaining a connection to the outside world can help. Call a friend, set up a video chat for your book club, and don't skip that upcoming virtual happy hour. Embrace healthy connection.

Accept support:

Many of us are good at helping others, but not at accepting help when we need it. Be kind to yourself and be willing to accept or ask for support right now if you're feeling stressed or overwhelmed. From asking a friend to stop by the store to letting your spouse know that you really need a break, a little bit goes a long way. 

Remember to unplug:

Be mindful about how much news and information you're taking in and where it's coming from. More is not always better when it comes to a pandemic and one of the nicest things you can do for yourself to reduce stress is unplug.

Stick with structure:

If you occasionally don't know what day it is, you're not alone! To help days feels distinct and whole, build some structure, routine, and ritual to help things feel more "normal" and less stressful.

Get creative to help kids manage stress:

For toddlers and younger kids, consider a video "play date" that is built around movement and activity (building Legos, painting, play dough, costume party). Just chatting is tough for kids and they'll feel more connected through play.

For older kids, try a cooking or craft project. Or for active kids, create a physical challenge or competition, such as a backyard obstacle course. Movement is a great de-stressor for everybody, but especially for growing bodies.

Do what works for YOU

: Since stress affects us all differently, responding to stress is also deeply personal. Embrace what supports you and your family. Above all—don't ignore stress!
Howard Center: Main Number: 802-488-6000. First Call for Chittenden County (Crisis Line) 802-488-7777 Help is here.