Tips for Creating a Healthy Nursery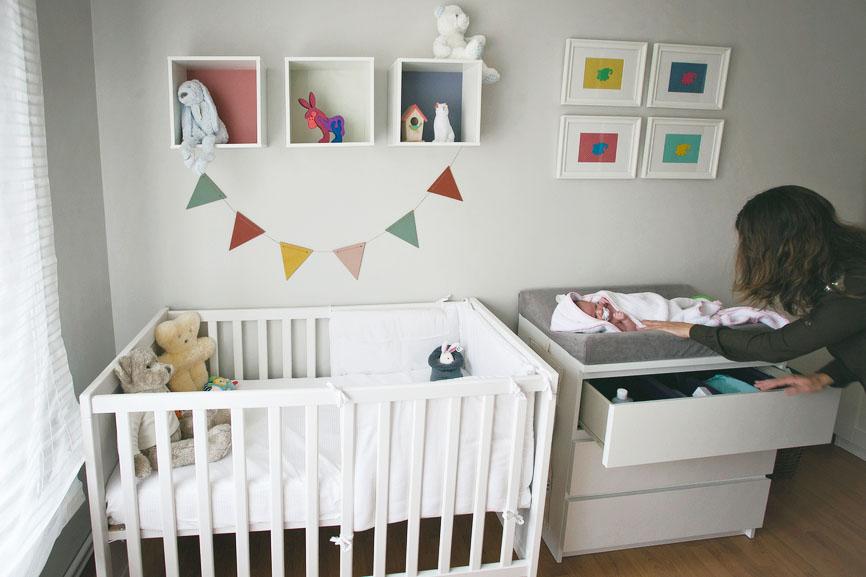 If you have a baby on the way, sooner or later your thoughts will turn to decorating a nursery space. Whether you have an "anything goes" budget or prefer to stick to the basics, making the space where your baby is likely to spend much of her time as safe and healthy as possible takes some thought. These tips from our friends at Healthy Child Healthy World will help you make good choices for your baby:
1. Make Your Baby's Mattress Safer
Since your baby will be spending 14 to 16 hours a day with her face buried in its fibers, the mattress should be your priority. If there is one product to splurge on, this is it. Look for organic and/or Greenguard Certified mattresses.
If the premium price isn't in your budget, don't despair—here are two ideas:
1. Make one request for your baby shower: have everyone pitch in on an organic mattress.
2. Make do with a conventional mattress and follow these guidelines:
Look for a mattress that is not covered in PVC and has as few chemical treatments as possible.
Air out a new mattress until there's no longer any hint of chemical smell. This is no guarantee that all the chemicals have off-gassed, but it should be significantly less.
Flame retardants are released from the mattress as it breaks down, so you'll want to try to encapsulate the dust. A tightly woven cotton barrier cloth meant to keep in dust mites can help with dust.
If you're worried about ongoing off-gassing, you'll need an impermeable cover. There are mattress pads and covers made from a special food-grade polyethylene plastic that not only do not off-gas themselves, but also reduce off-gassing from mattresses. We know many moms may cringe at the idea of encapsulating their baby's bed in plastic, but this solution will reduce chemical exposure and it is very affordable.
2. Buy A Better Crib
If you're buying new, avoid pressed wood (i.e. particleboard and other composite woods) and look for water-based finishes, plus certifications like Greenguard, which identify products that have lower chemical emissions. If you're buying second-hand (which can be a safer option since the crib will have already off-gassed), refer to the US Consumer Product Safety Commission's Crib Safety Center for details on the latest regulations and recalls.
3. Select Solid Wood Furniture
As mentioned above, avoid furniture made of laminated wood, pressed wood, plywood, particleboard, and chipboard. Particleboard looks like wood shavings glued together with no visible grain. Plywood is fairly thin with a grain. Unfinished edges reveal that a number of layers have been stacked and glued together. It is also important to have a wood cleaner that is fragranced with essential oils and contains no phosphates.
4. Seal Plywood And Particleboard Furniture
Since it's not always possible to avoid plywood or particleboard in furniture, apply a finish like AFMSafecoat products to the exposed, bare wood to keep fumes from being released into the air.
5. Be Careful With Cushions
If possible, choose custom-made cushions (or make your own) with organic cotton and wool fill (wool is naturally flame retardant). If conventional cushions are your only choice, vacuum them frequently using a HEPA filtered vacuum.
6. Get Good Flooring
If you're looking into flooring options, we recommend an easy-to-clean hard surface like cork or hardwood (find out what types of adhesives or coatings are used) with a washable rug made from natural materials like organic wool.
If you prefer carpet, look for products that follow sustainable carpet standards like those outlined by the Carpet and Rug Institute.
Keep your carpet clean. If you have carpeting, be sure to vacuum it regularly with a HEPA filtered vacuum and clean it thoroughly every 12 to 18 months.
7. Look For Safer Second-Hand Furniture
Avoid moldy "smelling" or mold-stained furniture. Mold spores are almost impossible to eliminate in upholstery.
Test paints on antique furniture for lead. Lead was used in paints up until 1978, so you should test anything older by purchasing a simple swipe kit from your local hardware store.
Clean furniture with a HEPA vacuum cleaner, or one that traps dust particles down to at least 0.1 micron in size (refer to the manufacturer for details like this).
Dust mites may be present in the upholstery. If possible, remove and wash covers in hot water. Stay away from anti-dust mite treatments containing tannic acid and benzyl benzoate—both are eye, skin, and respiratory irritants.
If the furniture is really dusty and hasn't been covered with a protective drape, you may want to forgo it.
Removable, washable slipcovers for sofas and chairs will cover unsightly stains, but don't rely on them to block dust and mold.
Even some dusty furniture can be rehabilitated if re-upholstered. Use organic cotton fabrics and fill (consider wool if you want a flame-retardant fill).
8. Select Safer Paint
When shopping for paints, look carefully at the label to avoid using paints that contain chemicals of concern, or emit harmful fumes.
"Low-VOC" paints, stains, or sealants are formulated to reduce their total content of certain chemicals that have been recognized as respiratory irritants. These paints still emit fumes, but usually at lower levels than traditional paints.
"Zero VOC" according to EPA Reference Method 24. These paints still emit fumes, can contain chemicals of concern, and up to one full tablespoon of VOCs per gallon of paint. Sometimes only the base paint is Zero VOC, with the tint containing additional VOCs. Ask a lot of questions to be sure you're getting what you're expecting, because the devil is in the details.
"Zero VOC, no toxics and no solvents." These paints are specially formulated so as not to contain any of the harmful chemicals found in traditional paints. There are no paint fumes and no nasty ingredients, which make them ideal for use in babies' nurseries.
Natural or organic paints made from citrus and other plant oils are free of synthetic chemicals. Water-based natural paints are, therefore, less resistant to mildews and molds. These paints can contain aromatic ingredients, such as the citrus based solvent d-limonene, turpentine, tung oil or pine resins, which can cause reactions in people with sensitivities.
Natural milk paints are odorless, and made from milk protein (casein) and earth pigments such as lime and clay. They come in powdered form, to be mixed with water. Milk paints contain no preservatives or biocides and should be applied quickly after mixing.
9. Decorate With Design & Health In Mind
Look for items made from natural materials, such as organic cotton, hemp, bamboo, and flax.
Avoid plastic, especially polyvinyl chloride (PVC),which is linked with many adverse health effects, including birth defects, immune system disorders, reproductive health disorders, endocrine and nervous system abnormalities, and cancer.
Let it off-gas outside. If it has that "new smell, "leave it outside or in a garage until the odor is gone.
We'd love to see or hear about what you've done to decorate your baby's room. If you have any home tips that you would like to share about baby proofing or embracing a healthier lifestyle in your household. We would love to hear from you on social media. Look for us on Facebook, Twitter, and Instagram