Seventh Generation Foundation Wraps Up Another Year of Giving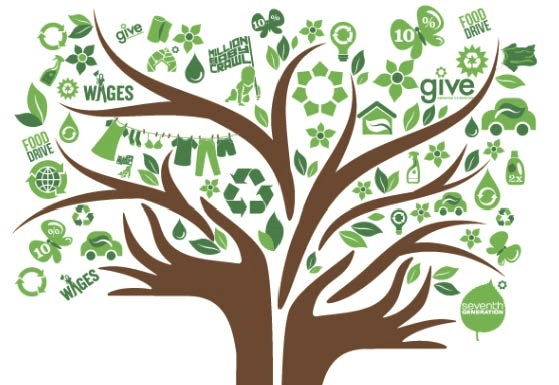 Since Seventh Generation's inception, we've acted on the belief that businesses can be powerful instruments of meaningful change. One of the ways we work to make that change is through our giving programs, making generous grants and donations to organizations that make the world a better place.
In 2012, we formalized our giving program with the formation of the Seventh Generation Foundation which operates two grant programs:
The Sustainability Grants Program
supports U.S.-based organizations working to bring about positive change and sustainable solutions that help advance the social and environmental goals we have as a business. This invitation-only program is administered by our Board of Directors. In 2013, the program made total grants of $150,000 to these organizations:
Women's Voices for the Earth
Breast Cancer Fund
Sierra Club
Earth Echo
Informed Green Solutions
Sustainability Academy
Safer Chemicals Healthy Families
VPIRG
The Vermont Community Building Grants support Vermont organizations working to help future generations thrive by making a positive and lasting difference in children's lives through progress in education and human and environmental health. This invitation-only program is administered by our Employee Giving Committee, a group of employees who have demonstrated passion and commitment to Seventh Generation's values and to making a different in our community. In 2013, the program made total grants of $30,000 to these organizations:
VT Works for Women
Spectrum Youth & Family Services
VINS
Community Sailing Center
Sustainability Academy
Audubon
North Woods
Farm & Wilderness
In addition to our giving programs, we also encourage and support our employees' contributions to their community through our Matching Program. Donations made to nonprofits by individual employees are matched dollar for dollar by the Seventh Generation Foundation up to $250 per employee. In 2013, our Matching Program contributed more than $5,000 to these organizations:
Spectrum Youth & Family Services
Chittenden Emergency Food Shelf
Other Food Shelf Donations
Other donations
Our giving allows us to breathe life into our aspirations, supporting on-the-ground, issue experts working for systematic change that builds communities, enhances health and nurtures nature. To learn more about the Seventh Generation Foundation and about the many nonprofit organizations we support, visit our foundation page.