Recipes We Love: Artichoke Puree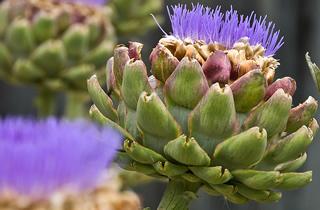 I was recently cleaning out the pantry, and a couple of cans of artichoke hearts caught my eye.
Artichokes were born in the Nile Valley and came to the U.S. in the 19th Century. Researchers say that the blossom of this thistle plant can be good for your heart, and offer a great source of fiber, magnesium, folic acid, and vitamin C.
Here's the quick, no-cook recipe for Artichoke Puree that I came up with:
Ingredients:
1 14 oz can of artichoke hearts
2 teaspoons good olive oil
1 clove of garlic, crushed, or ½ teaspoon garlic powder
1 teaspoon dried thyme
Salt and pepper to taste
Directions:
Soak artichoke hearts in cold water for a couple of minutes to remove some of the briny taste.
Squeeze out extra water and put artichokes and other ingredients into a blender or food processor. Process until smooth.
Serve as an appetizer or side dish.
Clean up with Free & Clear Dish Liquid from Seventh Generation
Seventh Generation Nation, what's your favorite artichoke recipe?