Pampers Pure vs. Seventh Generation Diapers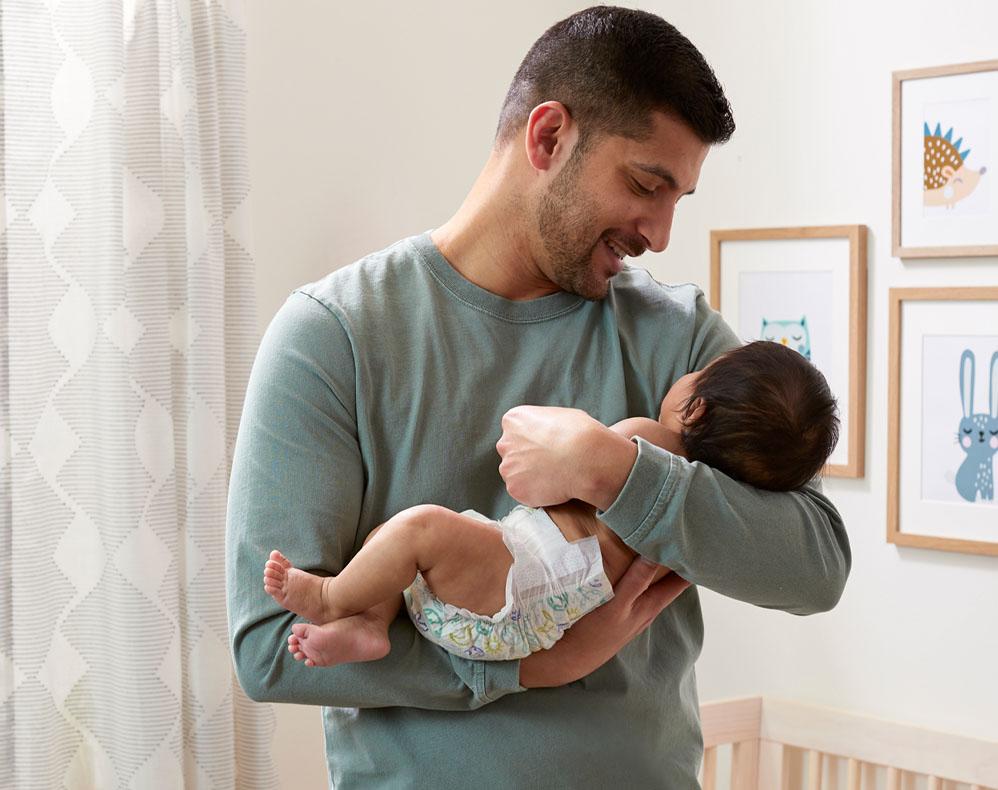 As a parent, it's easy to get overwhelmed by the sheer quantity of options available when you're shopping for diapers and baby wipes. Many parents wonder what claims on diaper brands mean exactly. We will break down these claims for two popular diaper brands: Pampers Pure and Seventh Generation.
At Seventh Generation, we make diapers that offer amazing leak protection, and we make them with the focus on sustainable ingredient choices your family has come to expect, and trust from Seventh Generation. This means we leave out ingredients such as lotions, fragrances, and chlorine processing and include ingredients like FSC(R) certified materials in our entire line of diapers. Why? It's simple. No chlorine process helps prevent toxins from entering our waterways and FSC(R) materials help protect our forests for future generations to come. These attributes have always been true for Seventh Generation Free & Clear Diapers.
Seventh Generation diapers are made with 0% chlorine bleaching, 0% lotions, 0% fragrances and are hypoallergenic - attributes they share with Pampers Pure, which also leaves out parabens, are made without natural rubber latex, or any EU 26 allergens. They also feature an enhanced soft outer cover, an absorbent core and top sheet, a printed back sheet made without dyes, and are made from premium cotton and plant-based fibers. Seventh Generation diapers are also designed with baby's sensitive skin in mind.
Seventh Generation Free & Clear diapers and Pampers Pure Diapers are both clinically proven hypoallergenic. Our Free & Clear diapers feature a bum-friendly, extra soft quilted liner and contain a wicking layer that pulls wetness away from baby skin. Traditional Pampers, and Pampers Pure also have similar wicking layer technology to pull away wetness. These attributes, along with changing diapers frequently, and letting your baby's skin dry out completely before putting a new diaper on, can help prevent diaper rash [1]. When it comes to leak protection, our diapers offer reliable, long-lasting protection that busy parents need.
Reducing our carbon footprint has been part of Seventh Generation's mission from day one, and while our diapers offer exceptional performance, we take pride in the sustainable manufacturing choices we make before our diapers even reach your baby's bum. For example, our diaper box packaging is made from 85% post-consumer recycled materials, compared to 33% in Pampers Pure diaper box packaging.
We're excited to see that other companies are making diapers with our planet's health in mind as well. For instance, Pampers Pure diapers are manufactured with 0% production waste, 100% certified renewable electricity, and materials that are 99% reused, recycled, or recovered. These and other sustainable, consumer-minded manufacturing practices have earned them certifications from Cotton Leads, the Skin Health Alliance and Green E. Our hope is that all companies will adopt these better planet practices, across the diaper line.
We've always made it a priority to advocate for the sustainability of our natural environment. We're proud that our diapers were the first in North America to be certified by the Forest Stewardship Council® (FSC). The core of our baby diapers is FSC® certified by the Rainforest Alliance which means that our material suppliers, manufacturers, and our business itself handles this material in a responsible manner all the way from forest to shelf. The adorable critters you see on our diapers, like Benny the Bear and Audrey the Owl, represent the vital forest habitats we're helping to protect.
These certifications tell an important part of our story, which proves that a business can be a positive force in the world—that a business can do good and do well. And every time you choose Seventh Generation diapers for your baby, your family becomes part of that story too.
We hope you'll visit our baby diaper product page to learn more about Seventh Generation's full line of diapers and other baby care products.
[1] https://www.webmd.com/parenting/diaper-rash-treatment#1