Seventh Generation's Response to COVID-19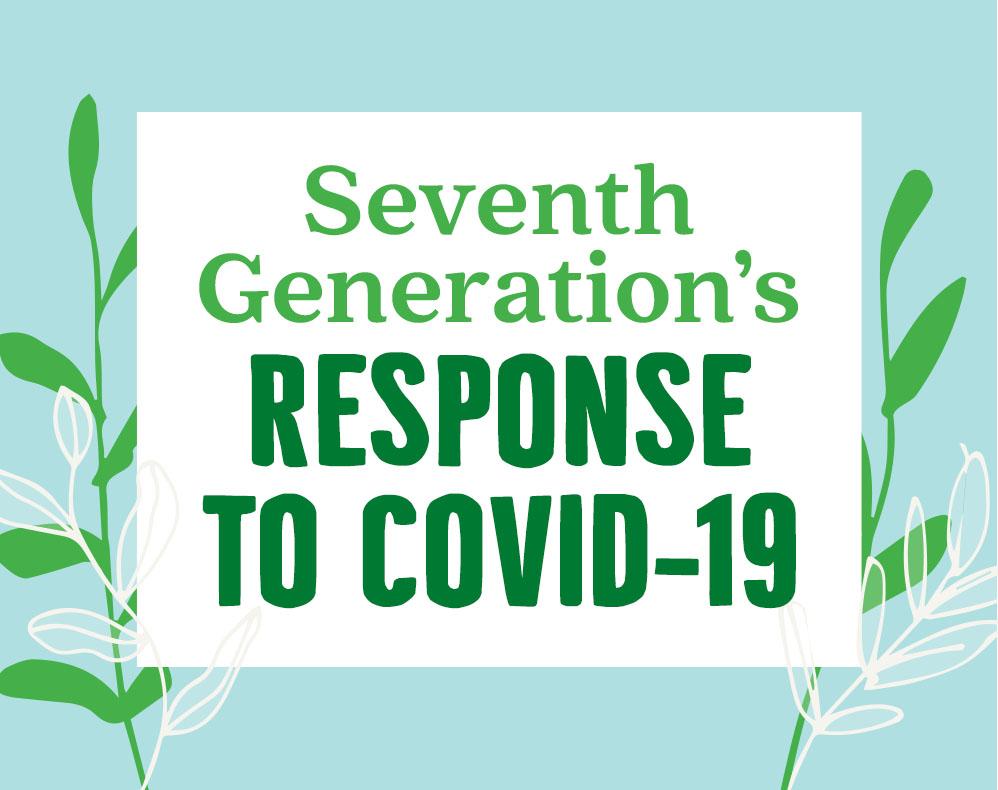 At a time when there's so much uncertainty and we're all embracing change to keep our families healthy and happy, it's more important than ever that we lean on one another for support. Like you, we are closely following the CDC's guidelines for How to Protect Yourself and practicing social distancing on behalf of our collective health—especially those people and communities who are most vulnerable.
Seventh Generation is taking steps every day to respond to the current crisis as part of our commitment to building a healthier, more equitable world for generations to come.
Communication:
As it has been for over thirty years, Seventh Generation's top priority is the health of families today and for generations to come. We want to stay connected to you and your families. We plan to keep our website and other channels regularly updated with accurate information from reliable sources such as the US Center for Disease Control regarding COVID-19. Don't hesitate to reach out and ask us questions about our products as they arise. Please do understand that we're experiencing very high call and inquiry volumes. We are working hard to address your questions, but it may take us longer than usual to get you a response.
The Essential Products You Depend On:
While we know that many of you are having trouble finding the Seventh Generation products you and your family depend on, rest assured that we are continually accelerating the production of essential products and, together with our suppliers and retail partners, are working hard to get our products back in stock as soon as possible. We are prioritizing fair and equitable distribution across our retail partners – big and small. This goes for our entire portfolio of products, but especially for those essential products that are likely hard to find right now, including:
Unfortunately, at this time, we do not have specific dates or product availability information that we can share as the landscape is changing rapidly.
We recommend reading the CDC's helpful information on cleaning and disinfecting your home, and click here for the EPA's full list of registered disinfectants that meet EPA's criteria for use against SARS-CoV-2, the novel coronavirus that causes the disease COVID-19.
Community Support:
As we think about the best ways to help during this crisis, we're taking a partner-first approach. That means we're staying in close contact with our non-profit and advocacy partners, who are seeing firsthand that it's vulnerable and marginalized communities who are being hit hardest, dealing with unprecedented challenges to their food security, housing, and economic stability. We can't abandon those who are most at risk, and as our partners take steps to respond now and for the long term, we're supporting them with philanthropy, in-kind donations, and advocacy.
Seventh Generation has donated $1.2 million worth of desperately needed product to meet the needs of those in our home state of Vermont, and across the nation. Our friends at the Vermont Foodbank are helping distribute products to community partners so they can quickly get to the families who need them.
We've also currently committed $25K (of a total planned $100K) to support two Vermont funds, COVID-19 United Response Fund and VT COVID 19 Response Fund, both of which are equipped to get funds out quickly to where they're needed the most.
Our parent company, Unilever, as part of their #UnitedForAmerica campaign, is helping us donate across the nation in partnership with Feeding America, including:

Supporting the global efforts to protect the lives and livelihood of Unilever customers, suppliers, and workforce.
$8 million worth of product donations.
200,000 masks donated to hospitals.
A Day of Service on May 21st for all Unilever North America companies that will add an additional $12 million of support through donation of needed products, and employee volunteer hours. Unilever will also devote its entire marketing and advertising spend that day to support the Day of Service by promoting non-profit partners, relief organizations, and other community groups that will distribute products to those most in need
Stronger Together:
Since so many of us are stepping into (or falling gracefully into!) new roles as parents and family members, we will also make it a priority in the coming days and weeks to share tips and ideas related to cleaning, parenting, learning, and growing while staying at home. Stay tuned.
Finally, though millions around the country are hunkered down and taking it day by day, many of us are also wondering how we can still support our neighbors, communities, and planet during this crisis. We strongly support the idea of Mutual Aid: local, people-powered, community-based networks that are coming together to meet each other's mutual needs, and to help keep people in the community stay safe and healthy. See here for a great resource on how to support others in your community and safely participate in mutual aid. In addition, if you have the time and resources to help, these articles from The Washington Post and PBS are full of great ideas as well.
Rest assured we will get through this together. We stand with you in solidarity for the health of this and the future generations to come.
*Seventh Generation Disinfecting Cleaners, Wipes and Sprays with CleanWell® INSIDE can be used against SARS-CoV-2, the cause of COVID-19, on hard, nonporous surfaces. These products are EPA registered broad spectrum disinfectants that are on the list of EPA registered disinfectants which have demonstrated effectiveness against viruses similar to the 2019 novel coronavirus, SARS-CoV-2, the cause of COVID-19, on hard, nonporous surfaces. Refer to the U.S. Centers of Disease Control and Prevention (CDC) website at https://www.cdc.gov/coronavirus/2019-ncov/index.html for additional information.