New York Climate Change Legislation Victory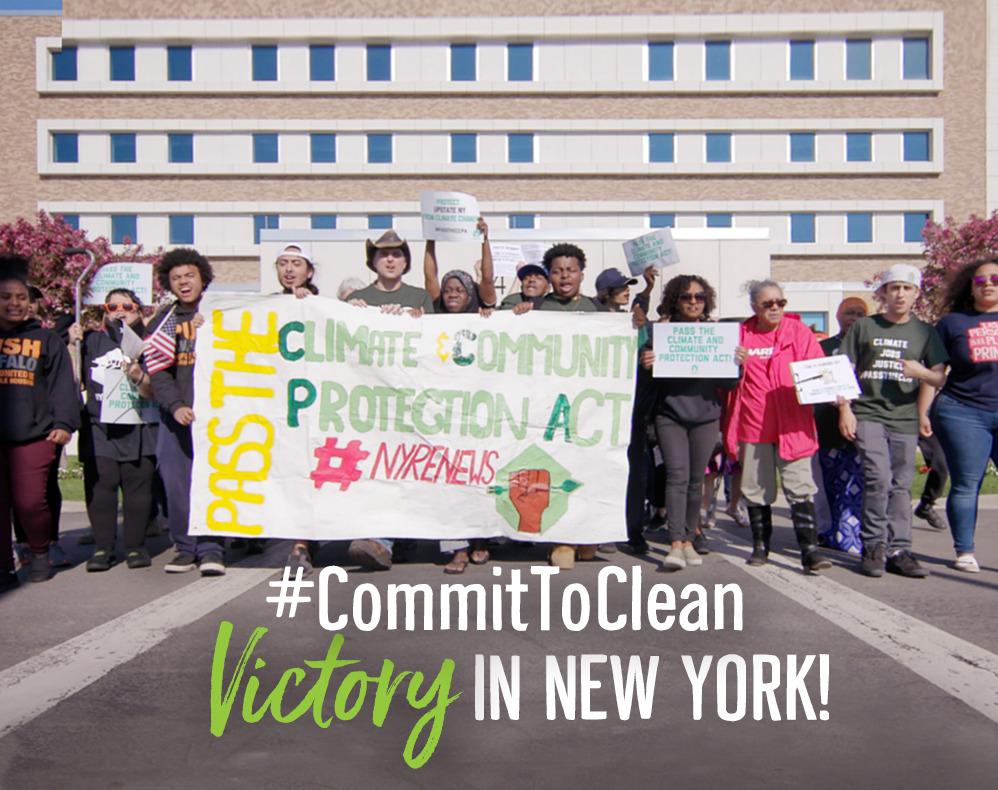 New York Scores a Major Climate Victory
We have some exciting news to share.
The fight for climate justice and a healthier planet just won an important victory with the passage of New York State's groundbreaking Climate Leadership & Community Protection Act (CLCPA). The amazing activists and organizations who worked tirelessly for years to spark this win have shown all of us what can be achieved if we're willing to stand up and fight for our collective future so we can leave the world in better shape than we found it.
And yet, just as the devastating effects of climate change and the burning of fossil fuels didn't happen overnight, they also can't be undone with one decisive action. Additionally, some of the concessions needed to get the final version of the bill passed highlight the fact that the fight is far from over, especially when it comes to protecting communities on the frontlines of the climate crisis.
But this is a watershed moment in the fight for a healthier planet—and it's time to celebrate.
So, what is the CLCPA and why does it matter?
The CLCPA is a huge win both for the climate and for families. Here's why:
It raises the bar by setting the strongest greenhouse gas emission standards in the nation, with carbon-free electricity by 2040 and an entirely net-zero carbon economy by 2050 [1].

New York is the country's fourth most populous state, and it's third largest economy, which means that millions of families will benefit, especially those most at risk from the negative health impacts associated with climate change, such as rising asthma rates [2].

Due to its size, New York's economy-wide shift away from fossil fuels will help expand the overall market for renewable energy sources such as wind and solar and help speed up a larger, national transition.

It establishes New York as a bold climate leader, along with California, Nevada, Hawaii, Washington state, Maine, New Mexico, Washington D.C, and Puerto Rico, who have all set 100% renewable energy goals.

New York's commitments can also help create a blueprint for federal action.

It promises that a third of the economic and environmental benefits will go directly to vulnerable frontline communities whose health and livelihood are most at risk. The language around these benefits was softened at the last minute, though, which means there's still work to do.

It has the potential to jumpstart the green economy and create thousands of good-paying green jobs.
Impressive, huh?
But as we celebrate the CLCPA's commitments to help protect the health of people and planet, it's worth noting that the bill almost didn't make it over the finish line. In fact, if not for years of vigilant work done by NY Renews—a diverse coalition of over 180 environmental justice, labor, faith, and community organizations, such as PUSH Buffalo—the bill would still just be an idea on paper, instead of a bright promise for a healthier future. It was initiatives like PUSH Buffalo's Green Development Zone, which brings weatherization solutions and energy independence to communities and homes in-need, that inspired Seventh Generation to join the fight and use our voice to help their powerful message reach New Yorkers and their legislators.
So, what's next? We Keep Fighting!
The CLCPA marks an important moment, and we stand with the local leaders, activists, and students who are rising up in cities and states all across the country for a healthier future for the next seven generations.
We recognize, though, that while the shift to renewable energy is becoming inevitable, making that transition in a way that is just and equitable to all people—especially those who are most vulnerable—is not. We're committed to solutions that ensure a just transition to a clean and renewable energy economy. While state climate legislation is a great place to start, many climate activists have their eyes set on lobbying for federal climate legislation in the near future.
But, today we celebrate with those who have worked so hard to secure this victory to help combat the effects of climate change. Take a bow, you've earned it.
Now, let's get back to work.
[1] https://www.vox.com/energy-and-environment/2019/6/20/18691058/new-york-green-new-deal-climate-change-cuomo
[2] https://www.aafa.org/climate-and-health/