Look for Labels: The Importance of Ingredient Education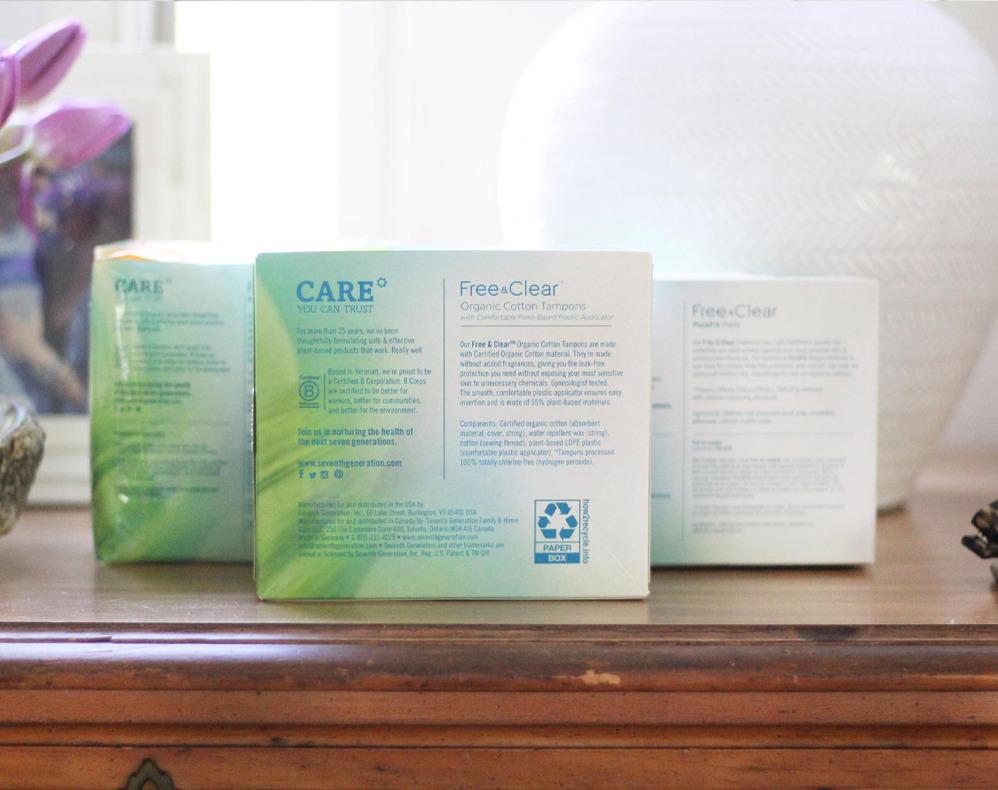 The first few months of the new year bring with it an opportunity for reassessing daily habits and setting new intentions. Resolution lists are often filled with goals of bettering one's health, but you don't have to solely focus on a gym routine or diet change to see a difference. On average, women are exposed to chemicals at a far higher rate than men. This is mainly contributed to the fact that women are targeted by more industries and use more products on a daily basis. According to a survey from the Environmental Working Group, the average woman uses 12 products containing 168 unique ingredients every day. Men use an average of six products with about 85 unique ingredients. There's an obvious gender gap in exposure to everyday product ingredients, but there are steps you can take to help educate and empower yourself as you walk throughout the store.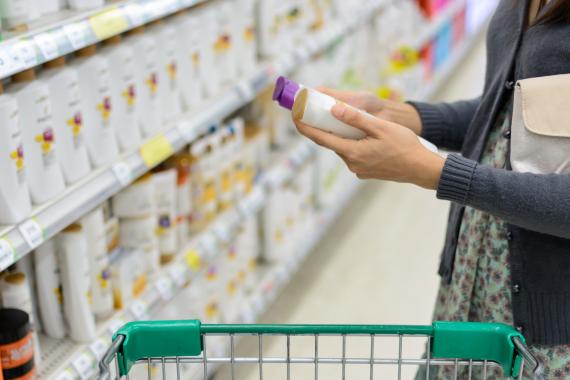 Be a Label Detective.
Many of us have gotten used to flipping over food items in a grocery store to check the label for things like sugar, calories, protein, fiber—and to keep an eye out for ingredients like trans fats or high-fructose corn syrup. But when was the last time you checked out the ingredients in your shampoo or makeup products? We get it; there are a lot of foreign-sounding ingredients used in personal-care and beauty products, so it's hard to know what elements you need to care about. (After all, you're not planning to eat that tube of foundation, right?)
Think again. Here are three reasons to care about what's in your medicine cabinet:
According to research from EWG and Women's Voices for the Earth, a national health nonprofit working to eliminate and build awareness about chemicals in products, many fragrances, personal-care products, and feminine-care products contain ingredients that may cause cancer, might disrupt hormones, or could cause unnecessary allergic reactions.
Topically applied ingredients may penetrate your skin. The CDC backs this theory of dermal absorption, and the EWG published two studies more than a decade ago that proved that potentially harmful chemicals could enter the umbilical cord of newborn babies via their mothers' bloodstream. It's just as important to know what you're putting on your body as it is to know what you're putting in it.
The EPA has identified a long list of chemicals of concern—yet the beauty and personal-care industry hasn't been required to eliminate the majority of these chemicals from their products. It's time to change that.
Know What Ingredients to Watch Out For.
While research is ongoing about many chemicals of concern, here at Seventh Generation we feel strongly about educating consumers about the possible implications of certain ingredients. Companies don't go out of their way to call out potential health issues associated with ingredients they use—so that means the responsibility is on you as a consumer to know why you might want to avoid certain ingredients or products.
Your first line of defense is knowledge. Here's a partial list of some ingredients to stay away from, and why.
Clear ingredient call-outs on products are critical for making informed choices as a consumer. When you know what's in a product, you can decide whether or not it's something you want to use yourself, or take home to your family.
Women Are Powerful Consumers
According to Catalyst, a global nonprofit helping advocate for women in the workplace, women control more than 70 percent of household spending. That translates to a lot of marketplace power. Women can harness that power to influence the way brands and companies—even large ones—do business. By choosing to support advocacy groups such as Breast Cancer Prevention Partners, Women's Voices for the Earth, Safer Chemicals, Healthy Families, and Safer States, you can help fund the research needed to convince companies that it's time to eliminate potentially harmful ingredients from their products.
Support Companies That Have #ComeClean
As a consumer, you can stand behind the companies that are already committed to ingredient transparency, like Seventh Generation. You will find ingredients listed on all of SVG's tampons, pantiliners, and pads. Maybe you've never thought about it, but feminine products have a particularly personal relationship to your body— it is important to understand what you are using down there. That's why Seventh Generation supports H.R. 2416, The Menstrual Product Right to Know Act, introduced to Congress in 2017.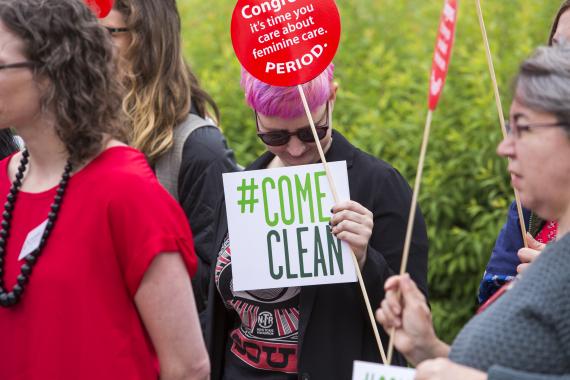 Seventh Generation also supports Beautycounter, a beauty company with deep roots in advocacy for ingredient disclosure and regulation, sells a full line of beauty and personal-care products—but it also publishes the Never List, made up of more than 1,500 questionable or potentially harmful ingredients the company pledges never to use in their products. (For comparison, the U.S. has banned only about 30 of these potentially concerning ingredients to date. The European Union has banned 1,300 of them.) By purchasing Beautycounter products, you can help support—and fund—critical advocacy work.
Choose Products with the Environment In Mind
Seventh Generation tampons are made with certified organic cotton and are certified to the Global Organic Textile Standard. Our complete line of feminine care products, including maxi pads and pantiliners, are whitening without chemicals containing chlorine to help prevent toxins from entering our waterways.
 And as an added bonus, none of our period care products contain fragrances or deodorants.
How to Be a Savvy Shopper in the Personal Care Aisle
Even though this can seem intimidating, don't worry. Luckily there are third-party resources and non-profits working hard to provide consumers with the information and tools they need to make informed decisions. Here are a few:
The Environmental Working Group: EWG.org is a resource for finding information about the chemicals we encounter in our daily lives, from the pesticides and additives present in food, to the chemicals in cleaning products, personal-care products, and makeup.
EWG's Skin Deep app: You can use this app to scan the barcodes on personal-care products. The app rates the product and provides more information about potential ingredients of concern to help you make informed choices.
Think Dirty app: Similar to the Skin Deep app, Think Dirty assesses the overall risk of a given product based on its ingredients' potential impact on your health.
GoodGuide app: Designed to rate potentially harmful chemicals in cleaning products, GoodGuide also tackles household and personal-care items.
DetoxMe app: Helps you reduce your exposure to potentially harmful chemicals in your life with helpful tips and a status bar to help you keep track of your progress.
Turn Power into Change. Tell Personal-Care Companies to #ComeClean.
Companies know that women are powerful consumers; it's time to turn that power into advocacy by supporting the companies that stand up for you—and for the environment. Become an informed consumer, advocate for ingredient information and disclosure, and put your money behind companies that are committed to the same things—not just the bottom line.