As a B Corp, #WeGoBeyond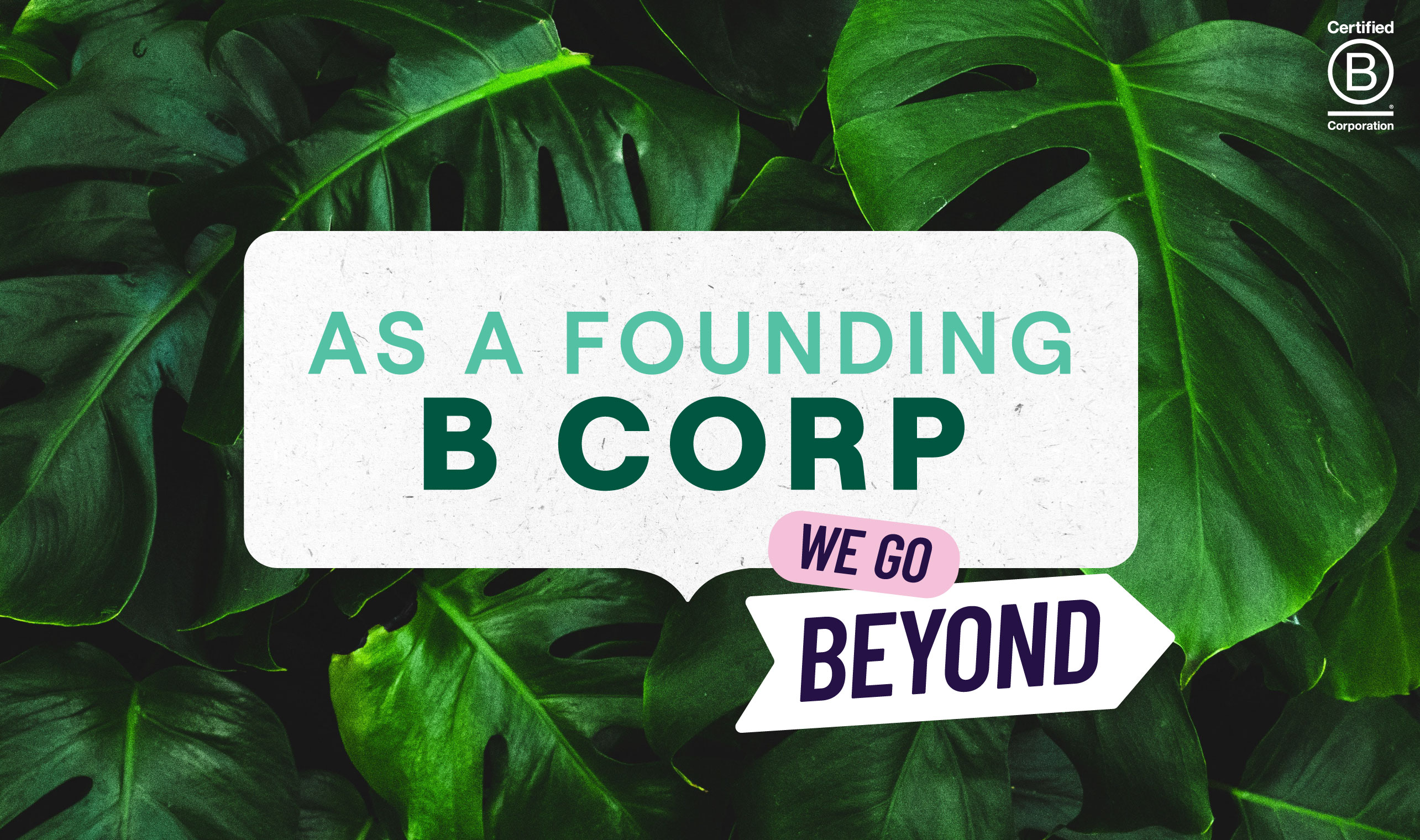 As a certified B Corp, #WeGoBeyond to achieve our mission of transforming the world into a healthy, sustainable, and equitable place for the next seven generations. Seventh Generation was one of the very first B Corps and helped create the original B Corp standards, which is why
we're so inspired to see how fast this movement has grown.
In honor of #BCorpMonth, we're sharing everything you need to know about why and how B Corps are better for people and planet—and all the reasons we're so proud to B.
So, what is a B Corp?
Glad you asked! When a business is B Corp certified, it means they "uphold the highest standards of social and environmental performance, transparency, and accountability.[1]" The old model of companies putting profit over people and planet, and hiding behind "trade secrets," is over. The transparency and high standards that B Corps embrace help create better pay and conditions for workers and help nurture a healthier planet. B Corps also work together to establish more sustainable supply chains and create a global economic system that's more equitable, inclusive, and regenerative for everyone.
The B Corp movement started with 19 pioneering companies in the summer of 2007, and 81 founding B Corps by the end of that year. Today, the B Corp community is a global force for good that's growing every day, with over 5,000 B Corps in 79 countries, across 154 industries, and over 400,000 workers[2].
WHY We're So Proud to be a B Corp
B Corps are united by our shared belief that business can be a force for good in the world. Here's why it means so much to us to be a part of the B Corp community.
B Corps Fight for the Planet
You can't live a healthy life on a sick planet. We fight to keep fossil fuels in the ground where they belong, and we make sustainably sourced products that nurture people and planet today—and for generations to come.
B Corps Go Beyond Profit
Seventh Generation was born with a promise: in our every deliberation, we must consider our impact on the next seven generations. That's why we measure our success in positive impacts for people and planet—not just profit.
B Corps Put People First
We believe that everyone deserves respect, fair pay, and a healthy work/life balance. We're committed to building a fair, inclusive workplace that supports, inspires, and brings out the best in all of us.
HOW We Bring Our B Corp Commitments to Life
At Seventh Generation, our B Corp certification is more than just an icon. It inspires and challenges us to make our products safer and more effective for families—and more sustainable for the planet. Being named one of the 50 most sustainable companies in the world lets us know we're making an impact[3].
Here's how we bring our B Corp commitments to life.
Cleaning Re-Defined
We harness the power of plant science to create products that work hard for your family. Through tireless innovation, our in-house scientists love proving and re-proving that renewable ingredients can get the job done for an everyday clean you can trust, and without bringing ingredients of concern into your home.
Safety-Obsessed
For over thirty years, we've been committed to the safety of people and planet. That means sourcing safe, effective ingredients you can feel good about using around the people you love. We hope it's obvious that your safety is everything to us. But don't just take our word for it. Seventh Generation has twice been named Safer Choice Partner of the Year by the EPA.
Climate Advocates
Whether we're standing side-by-side with climate activists on the front lines in the fight for climate justice, or using our voice and platform to amplify the impactful work of climate partners like Honor the Earth and NY Renews, we advocate to help build a future free from carbon emissions.
As a certified B Corp, #WeGoBeyond at all levels of our business. We go beyond products and beyond profit. We go beyond for our communities and for social justice. We go beyond because we're on a mission to build the healthy, equitable future our children deserve.
And we're just getting started.
1. Sources - https://www.bcorporation.net/en-us/news/blog/celebrating-5000-b-corps-global-network
2. Sources - https://www.bcorporation.net/en-us/news/blog/celebrating-5000-b-corps-global-network
3. Sources - https://sealawards.com/sustainability-award-2018/