Cleaning Tips During COVID-19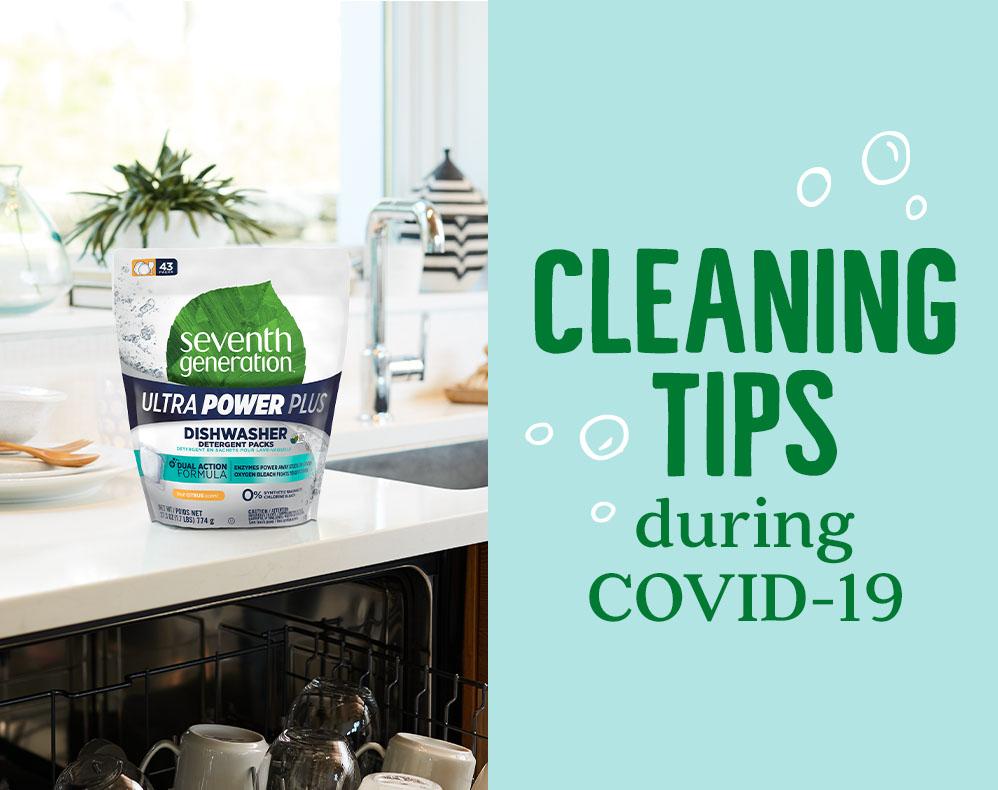 For so many families, adjusting to life during the COVID-19 crisis has meant adjusting to a lot more time at home—and way more cleaning. These days, it may feel like the minute you get things tidied up, your spouse or children have added dirty dishes to the sink or left a mystery mess on the counter. Additionally, many of us are taking a fresh look at our cleaning routines to ensure we're cleaning properly to keep our homes safe for ourselves and our loved ones.
We know that it's been challenging to find many of the essential products your family depends on, and we want you to know that we've significantly increased production and are working with our retail partners to get shelves re-stocked as quickly as we can. This goes for all the products we make, but especially those products in high demand right now:

•    Disinfecting Cleaners*
•    Household Cleaners
•    Hand Wash
•    Toilet Paper & Paper Towels
•    Laundry Products

Keeping in mind the CDC's guidelines for cleaning and disinfecting, we've put together some helpful cleaning tips to promote a healthy home and, hopefully, anticipate some of the questions that may have arisen for cleaning under COVID-19.
*Learn more about our disinfecting products view our COVID-19 resources page.
 
General Cleaning:
•    The CDC recommends wearing disposable gloves to clean and disinfect [1]. If you don't have access to gloves, properly wash your hands with soap and water before and after cleaning.
•    Clean frequently used and touched surfaces regularly with soap and water. This includes tables, doorknobs, light switches, countertops, handles, desks, keyboards, toilets, faucets, sinks, etc [1]. 
•    For frequently used electronics like phones and tablets, regularly clean according to manufacturer's instructions and consider a wipeable cover.
•    For soft surfaces (carpet, rugs, drapes), clean with soap and water or other cleaners made for these surfaces. 
Disinfecting:
•    If hard, non-porous surfaces are dirty, clean the area or soil and debris before disinfecting with a wipe or spray disinfectant. 
•    Use disinfectants on the EPA's list of those approved for use against SARS-CoV-2, the virus that causes COVID-19.
•    Though the spring weather feels welcome right now, our full guide to disinfecting for cold and flu season may also feel useful at this time. 
•     Our guide to germ hot spots can also help eliminate household germs in unexpected places.
Laundry:
•    Launder items according to label instructions. The CDC recommends washing in the warmest water possible if someone in your house is feeling sick . 
•    Consider separating outdoor clothes from indoor clothes to help reduce the possibility of bringing germs into your home. 
•    Give your laundry basket a good scrub with soap and hot water.  This is an easy one to overlook!
•    Avoid shaking out dirty laundry.
•    Dry clothes completely after washing.
•    Consider cleaning the inside of your washing machine. As an extra precaution, you can also run your washing machine empty.
We hope these tips are helpful and also give you some peace of mind as you clean during this uncertain time. We invite you to share these suggestions with friends and family. Every little bit of connection and support helps right now as we come together to help protect the health of this and future generations.