2022, the Year of People Power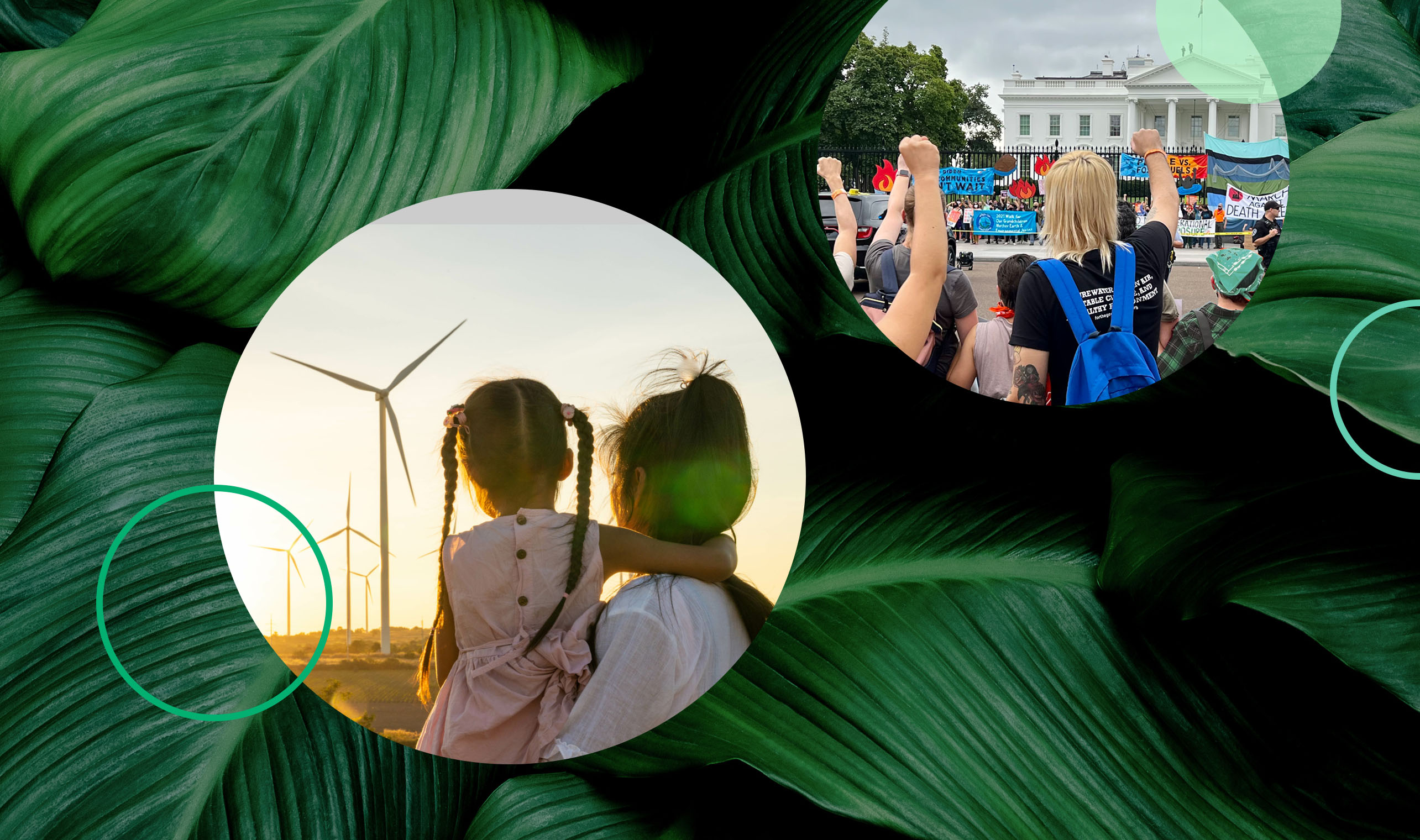 2022 has been a year of historic firsts and remarkable progress. Through our work together and because of the efforts of partners committed to climate justice, we've been able to make strides towards securing a healthier future. To prepare for what lies ahead in 2023, it's important to take stock of where we started in 2022, where we succeeded and how, and what lessons we can learn to take forward. Below is our 2022 year in review, starting with our nation's capital.
Federal action
In 1981, then-Rep. Al Gore organized the first-ever hearings on the effect of human-driven climate change. In 1988, NASA scientist James Hansen delivered landmark testimony before Congress, stating that the "greenhouse" effect had been detected, indicating the climate was indeed changing. While Congress has taken meaningful steps to address these warnings, it wasn't until 2022 that Congress passed comprehensive legislation–the Inflation Reduction Act, which dedicates more than $1 billion to reduce air pollution, $15 billion to reduce emissions through rooftop and community solar, and $550 million to improve access to drinking water. Critically: funding for all three of these examples will go to low-income and disadvantaged communities, which suffer first and most from climate change.
Credit for these wins go to frontline community members, including Seventh Generation consumers, who raised their voices to safeguard our communities and brought key stakeholders back to the negotiating table when the bill was on the brink of collapse. While the Inflation Reduction Act isn't perfect and allows for more fossil fuel leasing, it shows us how people power can bring a gridlocked Congress to the table and over the finish line.
We not only made progress, but we hit the brakes on a potential disaster. As part of the Inflation Reduction Act, Sen. Manchin secured a promise to speed up permitting of energy projects. While we do need to scale up renewable energy more quickly, unfortunately, this bill was signed, sealed, and delivered to Congress by fossil fuel companies, for their benefit. That's why Seventh Generation consumers worked closely with People vs. Fossil Fuels to stop the permitting bill in its tracks back. The fight isn't over yet, but it just once again shows how people power, especially voices from frontline communities, can beat the money and influence of fossil fuel companies.
Looking ahead to 2023, with Congress divided between the two parties, bipartisan climate action is unlikely. And the Inflation Reduction Act still falls short of the goal President Biden himself set out: by 2030, we must reduce emissions by 50% below 2005 levels. These are important reasons why President Biden must exert his authority by issuing a climate emergency declaration. In the face of potential congressional gridlock, this move, which can be done without congressional approval, offers the president authority to ban crude oil exports and stop new fossil fuel leasing, exports and projects. It will also help our nation ramp up renewable, just energy systems.
In 2022, your voices helped President Biden to, for the first time, seriously consider issuing this declaration. In 2023, working with People vs Fossil Fuels, we'll continue to push President Biden to make good on his campaign promise to end new fossil fuel leases by signing a climate emergency declaration, and be the "climate president" he promised to be.
In the states
We continued to make substantial progress in the states. In New York, we joined with NY Renews, a coalition of more than 300 environmental justice, labor, faith, and community organizations to ensure a safe climate future for all New Yorkers. We worked with NY Renews to push Albany lawmakers to commit $15B to secure an equitable climate future, such as electrifying buses, upgrading public housing energy, worker retraining for fossil fuel workers, and grants towards community/cooperative solar, particularly in frontline communities. 
As part of our partnership, we teamed up with businesses such as Kickstarter and Uncommon Goods to write a letter to New York's elected officials to ensure state leaders understand that a just transition away from fossil fuels would be good for the state's climate, people and economy. We also ran print ads in local newspapers across the state to help New York consumers understand how the climate funds would benefit them and their communities.
While we fell short this year, we did secure one big win–New Yorkers voted to pass a $1.5B bond as a down payment towards the $15B we seek for climate justice. In 2023, we'll continue to work with NY Renews to pass the Climate Jobs and Justice legislative package.
Meanwhile, in California, we were proud to work with other companies like Waste Management to enact the Plastic Pollution Prevention and Packaging Producer Responsibility Act. This law requires that by 2032, all single-use packaging and food service be recyclable or compostable. Also by 2032, industry will need to cut single-use plastic waste by one-quarter, and increase the amount of plastics recycled by 65%, while contributing $500 million a year over 10 years to communities most negatively affected by plastic pollution. These are the kind of standards to which we have long held ourselves at Seventh Generation, and with this law, we're pushing for peer businesses to join us.
Elsewhere around the country, we're thrilled that Big Oil lost "big time" in the 2022 elections–spending more than $18 million on fourteen of the tightest Senate and House races, while only about $1M went to winning campaigns. Voters in Michigan put Pipeline Operator Enbridge on notice by re-electing incumbent Attorney General Dana Nessel, who is leading an ongoing complaint against pipeline company Enbridge Energy over Line 5. Line 5 transports 22 million gallons of crude oil and natural gas through Wisconsin and Michigan, with dozens of spills along the way. Enbridge is the same company behind another spill-prone pipeline, Line 3, the operation of which Seventh Generation fought against, alongside Indigenous-led organizations like Honor the Earth.
Our shared world
Looking across America's borders to the planet we share, we were also proud to see a big win as part of the COP27 negotiations in Egypt. Nations that suffer the most from climate change–and contribute the least to the problem–have long deserved compensation to address impact on frontline communities. This concept is known as "loss and damage." At COP27, negotiators struck a landmark agreement to create a fund with money to provide this compensation. It will help frontline communities recover from the worst climate impacts that have already occurred, such as more frequent and severe extreme weather, or sea level rise that have drowned entire coastal neighborhoods. It will also help these nations adapt to a changing climate so our neighbors around the world can be more secure from the worst impacts. While the agreement still needs major details, such as how much each nation, including the United States, will contribute to the fund, it is a strong framework upon which to build as we work to secure climate justice for the most impacted community members, here and abroad.
Leading other businesses towards a healthy climate future
In September, we published our Climate Fingerprints report, outlining a new framework, methodology and approach to comprehensively measuring climate impact. We did this because we recognize that, as a business, every dollar we spend can fuel fossil fuels while destabilizing the climate, or speed the transition to a just, renewable energy economy. Our report factors in all areas where we, as a company, have influence and invest resources to better our world, including banking, marketing, insurance, investments, advocacy. It also lays out progress against our goal: by 2030, to reduce emissions by 90% from 2012 levels.
We also published this to be, as our Chief Impact Officer put it, "a summon to arms and a call to action" for peer businesses to join us. Businesses continue to pump out commitments and climate reports that miss the urgency of this moment. Radical transparency, such as what we seek to model in our Climate Fingerprints report, will demonstrate whether business dollars are helping or harming today's generation and the next seven to follow. To elevate attention to this call to action, we introduced Climate Fingerprints report during NYC Climate Week, alongside our peer business, Allbirds, and leading climate change nonprofit Project Drawdown, in a conversation with one of Axios' leading climate journalists.
What you can do in 2023
As we review 2022 and its lessons, the biggest one is that people power and voices make all the difference! That's why your voice is so important to the fights ahead in 2023. To keep tabs on the latest efforts critical to a healthy climate future, you can:
Keep an eye on this blog, but don't miss out on the latest alerts! Sign up for our email, and follow us on Facebook, Instagram and Twitter.
Follow our partners who are on the frontlines of the work for climate justice, especially:
Wishing you a wonderful holiday season, and here's to more progress towards a secure, healthy climate future in 2023!