We are Committed to Discontinuing Large Format Liquid Laundry Bottles by 2030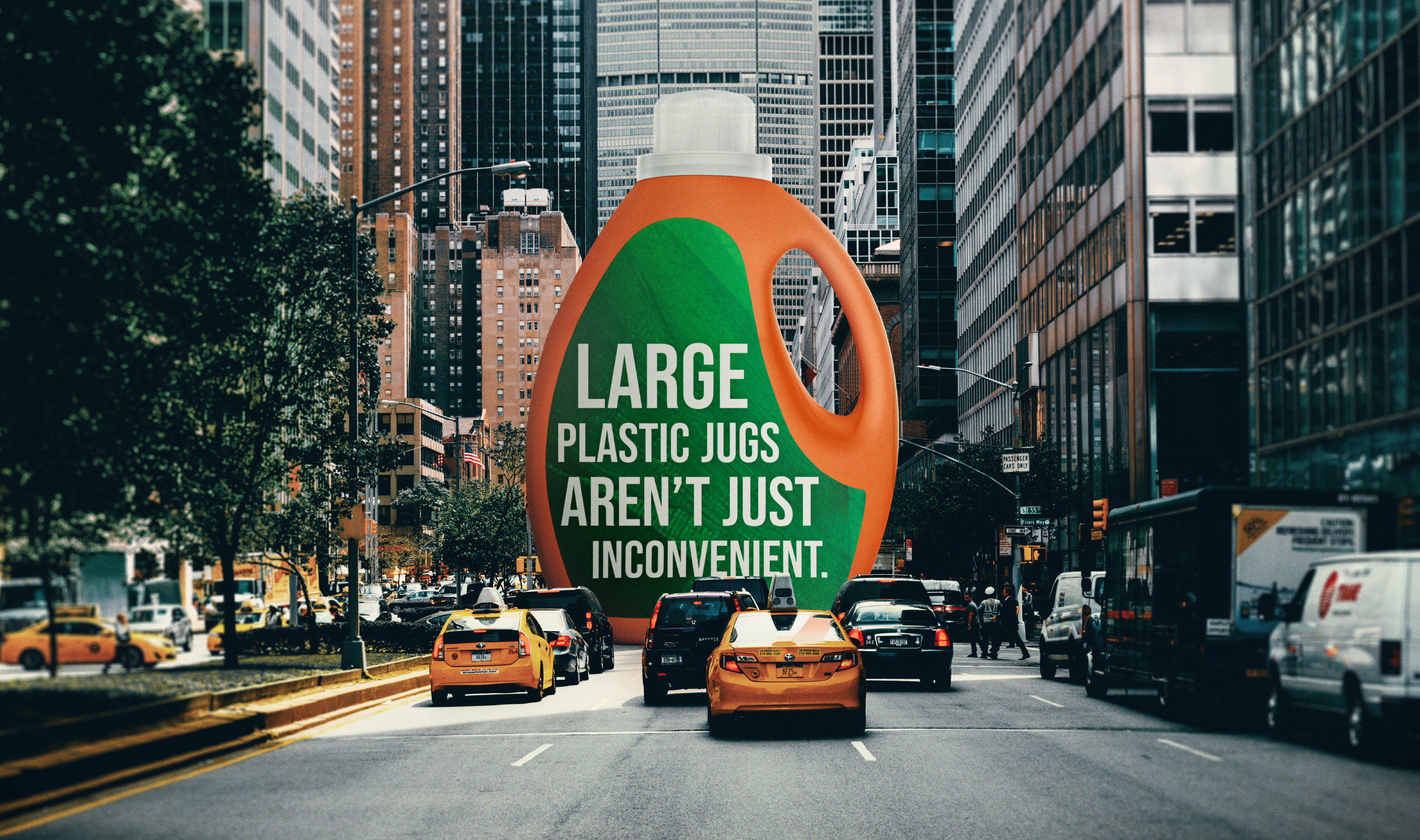 A walk down the laundry aisle quickly reveals its plastic problem – rows upon rows of large plastic containers. These bottles are shipped long distances from manufacturer to store, lugged from the store into your home and then unfortunately, not recycled enough. Laundry doesn't have to be so heavy, on our forearms, or the climate.    
There's a better way and Seventh Generation is committed to getting there by prioritizing ultra-concentrated detergent and phasing out our large format liquid laundry bottles.  
Goodbye big jugs. Hello concentration.  
But your bottle is still made out of plastic!?  
Indeed, it is. Our EasyDoseTM Ultra-Concentrated Laundry Detergent bottle uses 60% less plastic than our standard 90oz bottle. The plastic used in our EasyDoseTM bottle is made from 100% post-consumer recycled plastic. This means the plastic used to create the bottle had a previous life, was then recycled, and made into a bottle for our EasyDoseTM laundry. By using plastic that has already gone through the recycling stream and is living another life as a laundry bottle, we aren't requiring the production of new or virgin plastic.    
What do you mean by "large format liquid laundry bottles"?  
Large format laundry bottles mean our 90oz and above liquid laundry bottles. 
Why are you still using plastic at all?  
Great question and there are a few components to this answer. While we aspire to one day be plastic-free, we are on a journey to get there. 
At Seventh Generation, we're always finding ways to reduce the amount of virgin plastic (sourced from petroleum) in our packaging. Our packaging contains industry-leading levels of post-consumer recycled plastic and we remain committed to using as little virgin plastic as possible.  

We are also striving to use less plastic in our products, which is why we've committed to phasing out all large format liquid laundry bottles by 2030 in favor of our EasyDoseTM Ultra-Concentrated laundry detergent. We aim to concentrate the rest of the product line-up as well but started with laundry as it's the biggest offender from a plastic perspective for both the cleaning industry and Seventh Generation.

We also need to be sure that alternative packaging – whether it be glass, metal or bio-based – is truly more sustainable from an emissions and recycling perspective. 
Why can't you discontinue all large format liquid laundry bottles now? 2030 is a long way away.
We would love to be able to phase out the "big jugs" sooner but we really need the industry to move in this direction to help consumers stop reaching for the big jugs and embracing concentrated alternatives. Americans currently buy more than 680 million bottles of liquid laundry detergent annually. If the entire industry converted to a 4x concentrated formula in smaller packaging, that would help divert over 2 billion pounds of excess materials waste each year. But the truth is that many people still equate bigger with better. We are trying to prove that you can get the same performance in a smaller bottle –the same number of loads and an ultra-convenient experience. The more companies that move to concentration, the faster that people will adopt it.  
What do you mean by "prioritizing concentrated laundry detergent"?  
Our business plan centers around growing our concentrated laundry detergent through retailer distribution and partnerships, while deprioritizing the large format liquid laundry detergent.  
What about other forms of concentrated laundry detergent that use less plastic like pods and sheets?  
We are open to exploring all forms of concentration. It's crucial that any concentrated laundry product works amazingly well, meets our strict environmental and safety standards and isn't prohibitively expensive on a cost per load basis. Along with EasyDoseTM Ultra-Concentrated Laundry Detergent, we also offer concentrated powder Laundry Detergent Packs and we plan to continue to innovate in this space.