Introducing New Seventh Generation Body Wash & Deodorant
Body Wash & Deodorant on a Mission
At Seventh Generation, we believe that your morning routine shouldn't have to come at the expense of the planet. That's why we created our NEW collection of body washes and deodorants to help protect one of our planet's most-valuable resources, water. Products that work like they should while also helping nurture our waterways. 
It all starts with our 100% biodegradable, Water-Friendly™ formulas that work with the planet's natural chemistries, so when they're disposed of down the drain, they readily break down in the environment instead of sticking around and potentially causing harm. In a world where water pollution is becoming a growing concern, it's more important than ever to think about where products end up after use. When you choose products made with biodegradable ingredients you're choosing products that can help protect the health of waterways not just for our generation, but future generations to come.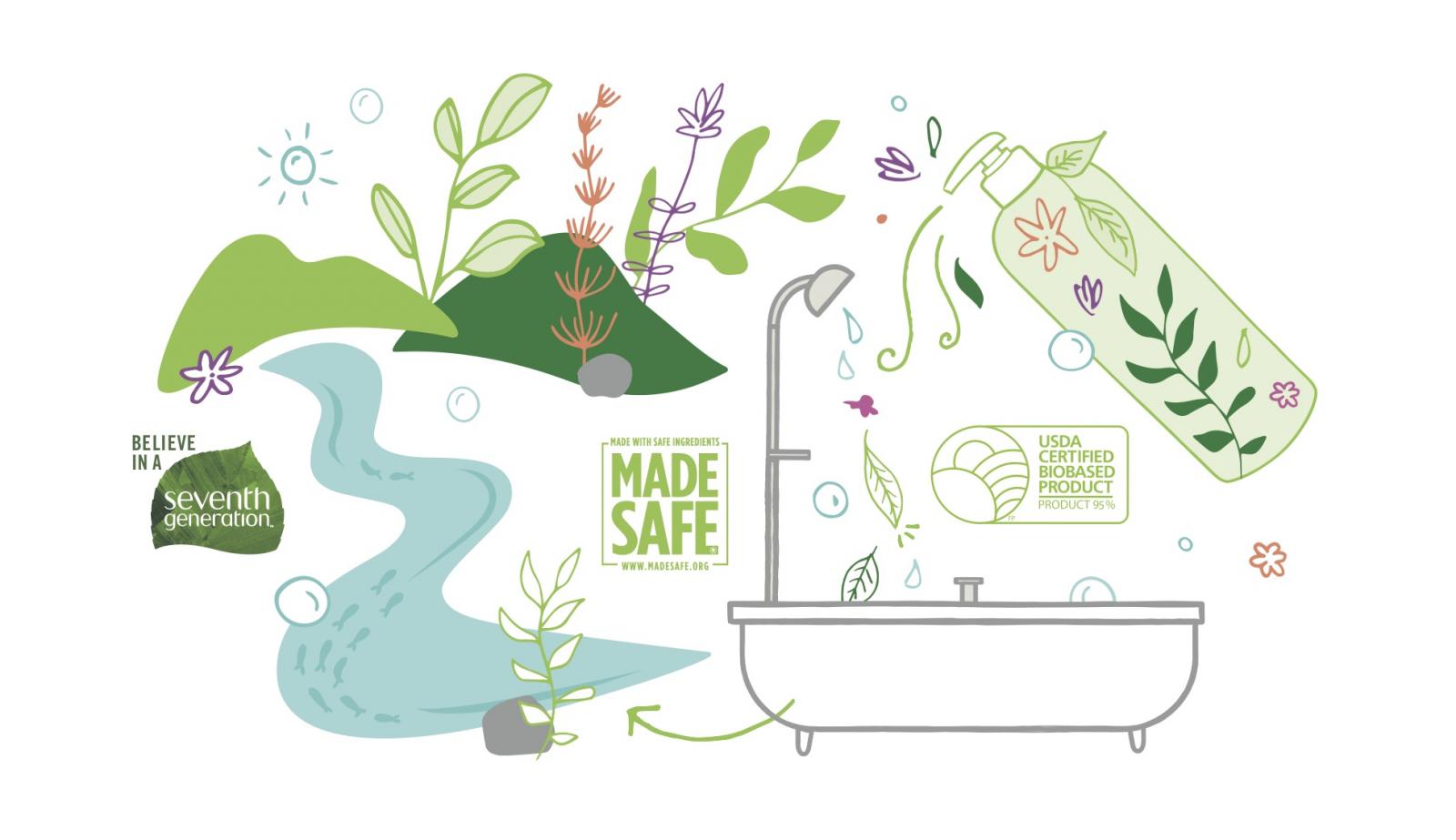 Let's meet our new collection of products.
Our rich and creamy Body Wash with shea butter helps maintain your skin's natural moisture as it cleanses. With relaxing scents like Lavender & Cedarwood and Mandarin & Yuzu made from 100% essential oils and botanical ingredients, Seventh Generation Body Wash calms, soothes, and turns your shower or bath into a spa. Plus, with 100% Biodegradable Water-Friendly Formulas® and 70% recycled OceanBound® Plastic body wash bottles that help protect our waterways and prevent ocean waste, you get soft smooth skin and peace of mind all in one. 
The arrowroot powder in our aluminum-free Deodorants helps you get the 24-hour odor-control that your busy life demands. Our deodorants are non-irritating, dermatologist tested, and use skin nourishing shea butter to go on smooth and easy—without parabens, synthetic fragrances, and alcohol. And with scents like Mountain Morning and Fresh Citrus made from real ingredients, you'll feel refreshed and ready for the day. 
We're on a mission to protect our planet's water, but it's going to take bold action to create the change we need. That's why with every Body Wash or Deodorant purchase you make, we're donating $0.25 per pack (up to 1 million packs) to our friends at Clean Water Action, who are working to stop water pollution and to protect our nation's drinking water.
We can't wait for you to try Seventh Generation's new Body Wash and Deodorant. Together, we can give morning routines a much-needed wake-up call and help protect our planet's water with every fresh start – because we believe in a Seventh Generation to come.